I grew up canning fruits and vegetables with my mom and still enjoy doing it to this day. I've tried a few different blends in the past. This particular Canned Tomatoes Recipe is my aunt Lyuda's, and the one that takes the number one spot for me.
Before I was married, I'd visit her often and looked forward to them each time they were served. I couldn't ever get enough of these tomatoes. Thank you Luyda, they are so good!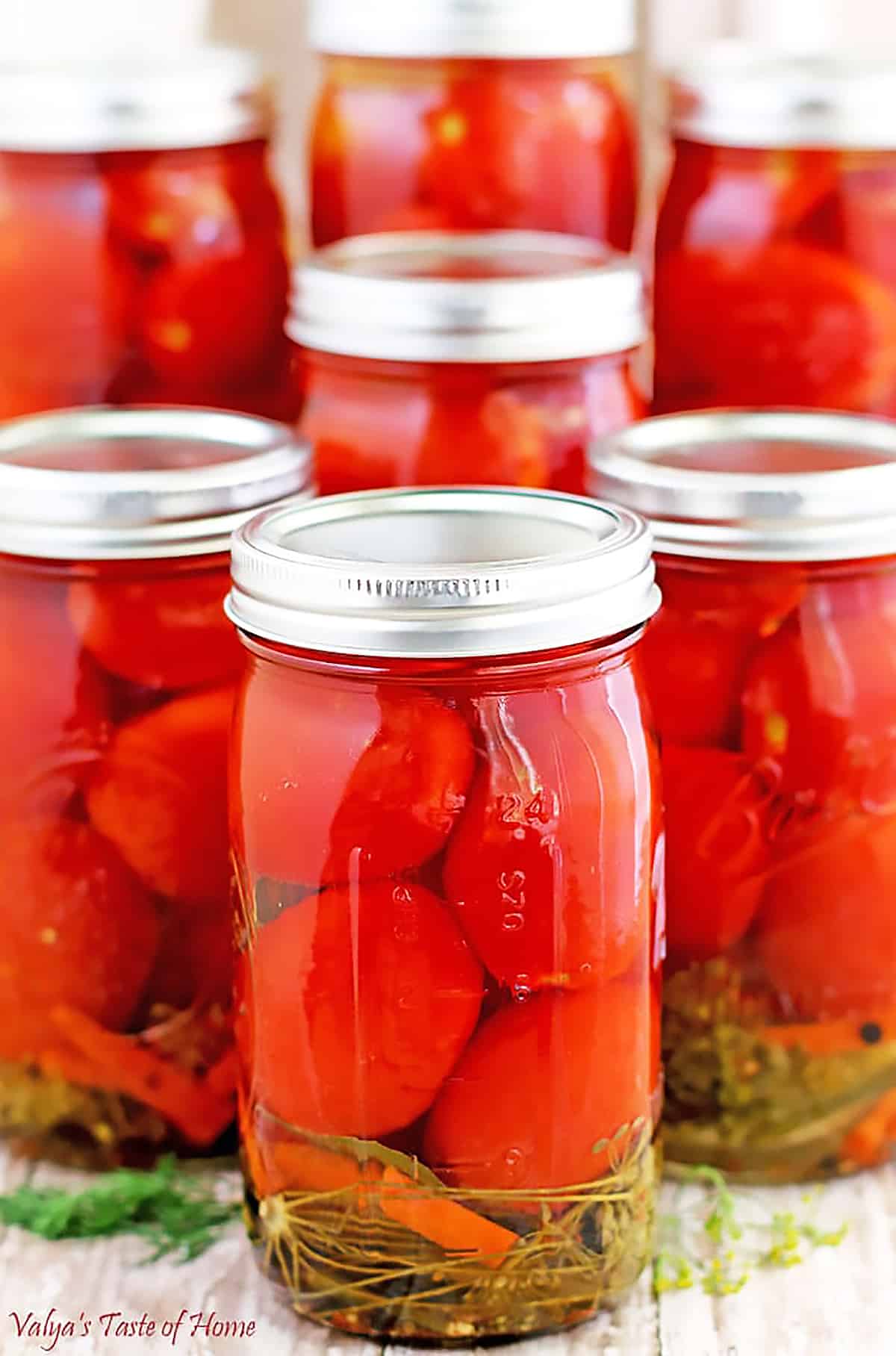 In my experience, tomatoes are way easier to can than pickles. Canning, in general, feels very therapeutic and satisfying to me. From start to finish. And then you enjoy the fruit of your work in your accomplishment. For their own reasons, my kids are not very big canned tomato fans, so I do not can too many jars. These 8 jars will be just enough for my husband and I, which is all right with me.
Once you've finished canning tomatoes, allow the jars to stand untouched for 30 days before opening a jar to allow time for the tomatoes to absorb and enrich with the flavors. They go perfectly with any potato dish (especially fried potatoes), any pasta dish, plov, etc... Have fun canning this season, and let me know what you think of this recipe. I would love to hear about your canning experiences as well.
Table of Contents
📋 Recipe Ingredients
Organic sugar
Kosher salt
Distilled white vinegar
Organic yellow onion
Garlic cloves (I used homegrown garlic)
Organic carrots (I used homegrown carrots)
Peppercorns
Crushed red pepper flakes
Bay leaves
Fresh dill (I used homegrown dill)
Tomatoes (I prefer using smaller tomatoes for canning)
8 wide-mouth quart size (946 ml or 1 L) – canning jars
🔪 Recipe Instructions
How to Can Tomatoes
First things first, prepare the vegetables. Peel, rinse, and then slice an onion into 8 rings. Then peel and rinse garlic cloves. And then peel, rinse and cut a carrot into one inch (2.5 cm) long sticks. Set aside until ready for use.
Rinse tomatoes and set them aside.
Prepare the syrup. Add organic sugar, kosher salt, and vinegar to the water. Stir until sugar and salt granules dissolve. Set aside.
Rinse jars and lids with soapy warm water (NO NEED TO STERILIZE THE JARS). Place one ring of onion into a jar then 2 flower heads of fresh dill, 2 small garlic clove, and 6 carrot sticks.
Then add 2 bay leaves, 20 peppercorns, and ¼ tsp. of red crushed peppers.
Pack tomatoes into a jar as compactly as possible without squashing them. Fill jars with cold syrup.
Tomatoes Canning Instructions
Place 4 jars into Stove Top Canner pot, fill the pot with cold water until the jars are submerged ¾ in the water. Bring the water in the canning pot to a boil (when the water in the canning pot will start boiling you will also see the bubbles floating from the bottom to the top in jars, this means that the water in jars is boiling as well).
Let the water in the canning pot boil for about 3 minutes.
Then screw a lid with bare hands as tight as you can (this way you will feel if the lid is screwed properly not sideways, be careful not to burn your hands).
Put on canning gloves or use a canning utensil to remove the jar from the pot. Screw the lid pretty tight.
If you make this Canned Tomatoes Recipe, please share a picture with me on Facebook, Instagram, or Pinterest. Tag with #valyastasteofhome. I'd love to see your creations!
📖 Recipe Card
Click HERE to download and print Tomatoes Jar Labels for FREE on THIS printable label paper.
🥫 Similar Recipes
Kitchen items I used in making this recipe:
(If you need any of these items, simply click on the picture to order. These are Amazon affiliate links. That means when you click on the picture link and make a purchase I make a small commission. Your cost for the purchase does not change. Thank you for your support!)