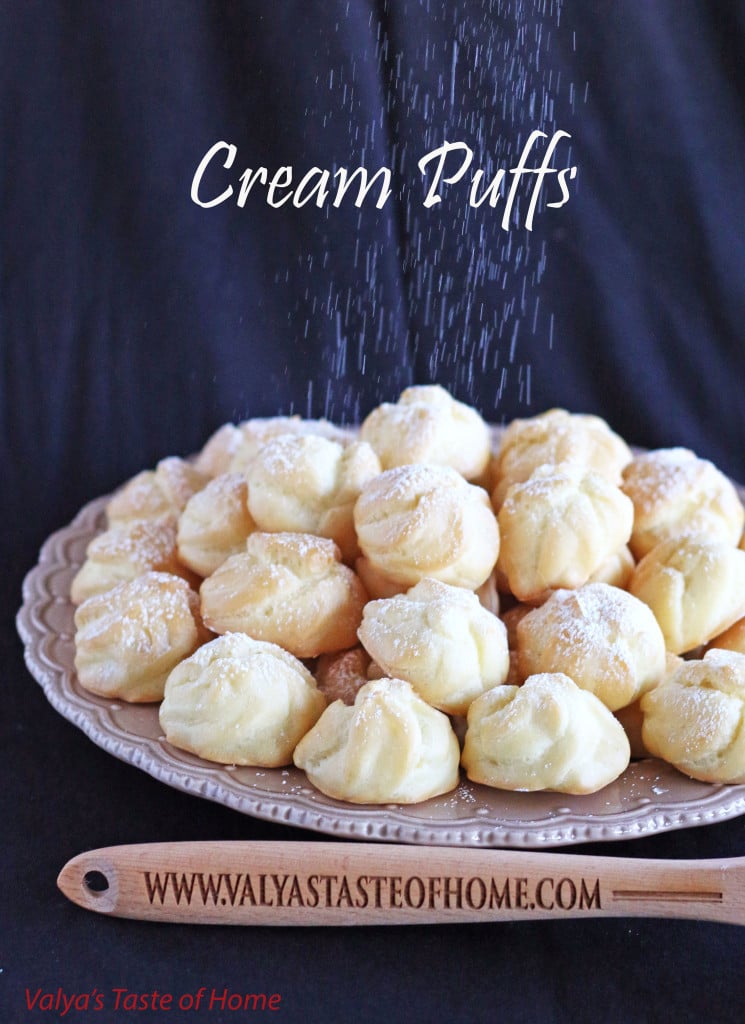 I absolutely love éclairs. For several reasons. They are one of my favorite pastries to bake and assemble. There are many possible outcomes you may create. You can make them as puffs, round, filled with cream and sprinkled with confectioner's sugar or shape them long, filled with cream and topped with icing or chocolate ganache.
Either way they are delicious and very attractive on your dessert platter. You may also adjust the texture of the puffs a bit. I usually use margarine in the batter, but a couple of years ago I tried using butter instead and found the difference it makes…
When they are made on butter, the texture is a bit flakier and they are crispier. However, on margarine they are chewy, soft and slightly gentler. That's just the way I like them, I prefer how they taste when made on margarine.
The biggest thing I absolutely love about them is that they may be made way ahead of time before they are actually needed. They may be baked, filled and frozen in zip lock bags for weeks. They are the perfect little things to go with a cup of tea when you get those short notice guests. It is really convenient to have them on hand. All there is to do is place them in the fridge for a couple hours and they are perfect and fresh to enjoy.
Batter Ingredients:
2 cups – water
2 sticks – margarine (or butter)
2 cups – all-purpose flour (sifted)
9 large – eggs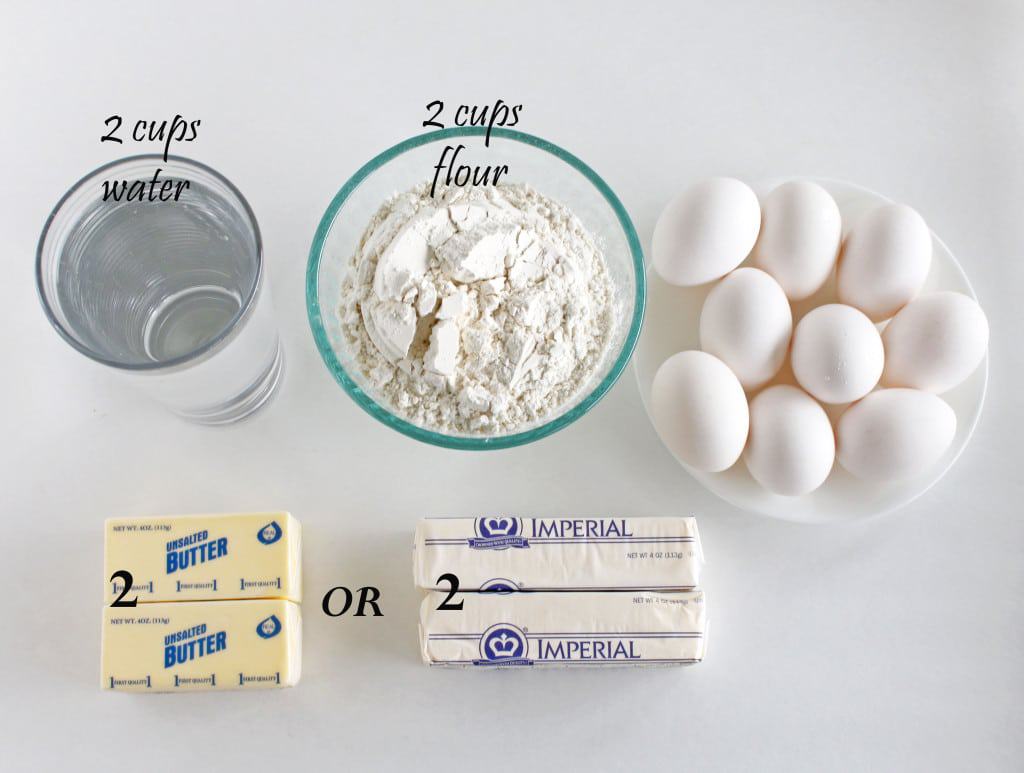 Cream Ingredients:
2 (8oz.) – softened cream cheese
2 (8oz.) – cool whipped (thawed)
½ cup – powdered (confectioners') sugar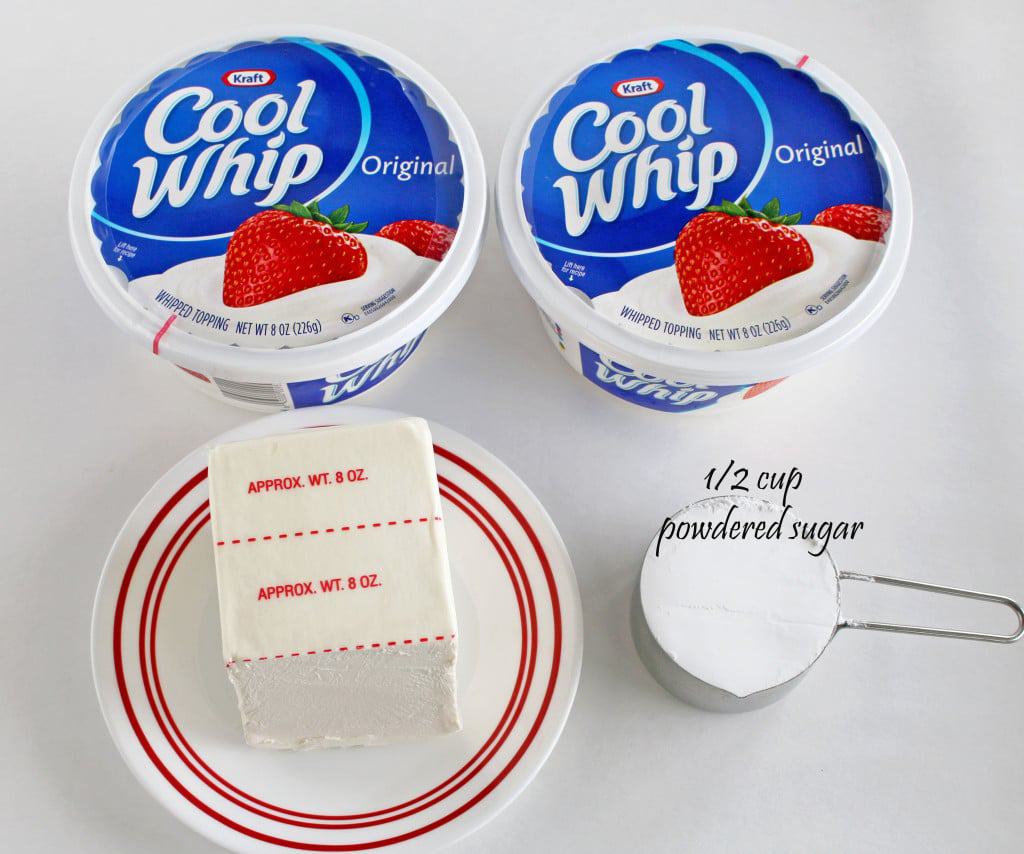 You will need piping bag with 1M large cupcake tip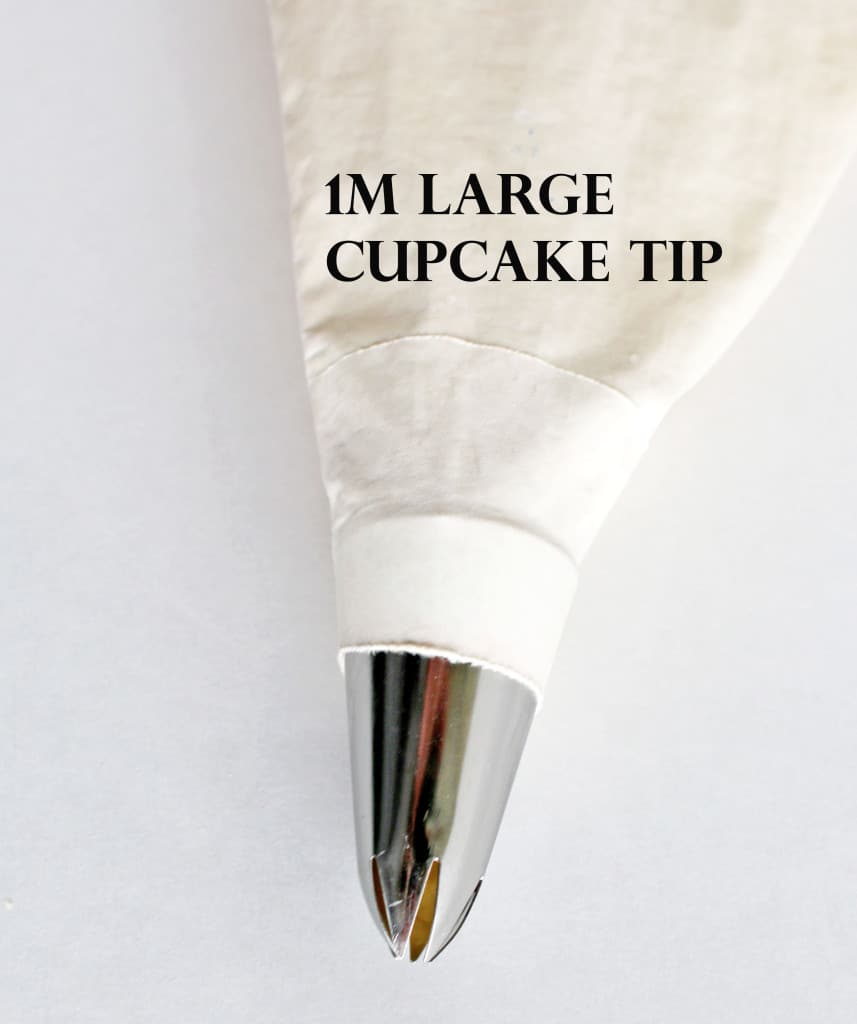 Instructions:
1. Pour water into a larger size pot (about a gallon volume size, it will be easier to mix the flour in), and then add margarine or butter. Turn the cooking temperature to high and place the pot onto a cooking top stove. As the water will gradually heat up the margarine or butter will star to melt. Bring it to a boil. Turn the stove off (keep the pot on the hot stove) and pour sifted flour all at once and start mixing it in really fast. Mix it for about a minute or until you will see no flour clumps and the texture will be smooth and soft. Remove from the stove top, place a pot on the counter top and let the better cool completely to room temperature.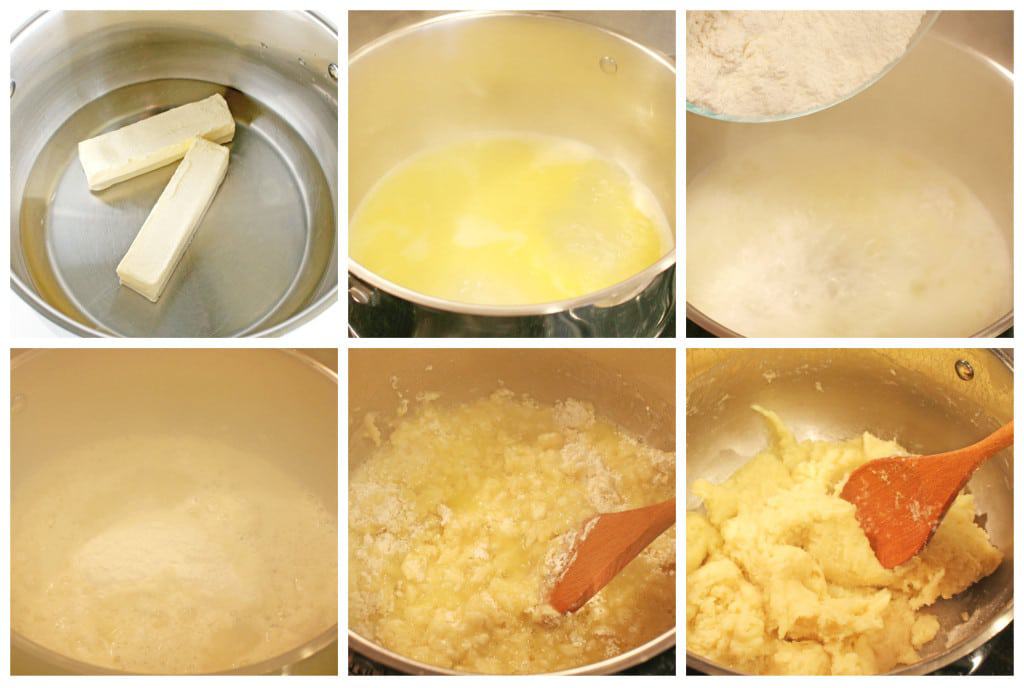 2. Place cooled batter into a mixer bowl and add 3 eggs at a time, beating the better very well on high mixing speed in-between each egg addition. The better will become more smooth and thinner with each egg addition too. After all the eggs are mixed in, and the texture is smooth, scrape the sides and the bottom of the mixer bowl well and beat it on high for a minute again to make sure that all the better is well mixed.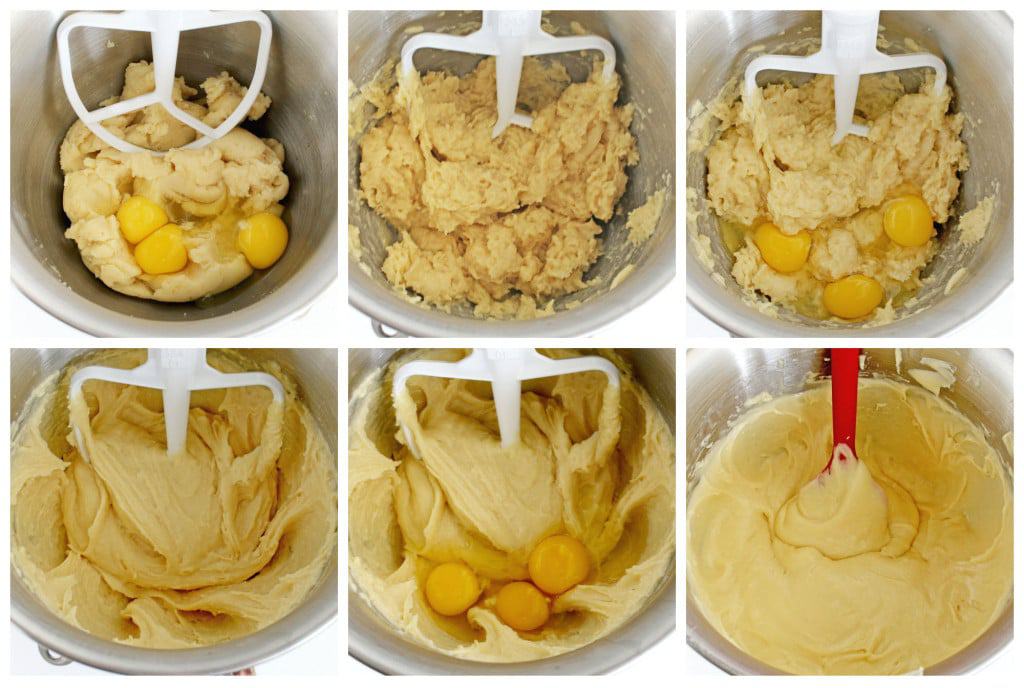 3. Fill the pastry bag with the better half way (it's easier to pipe the better out that way) and pipe out roses shapes onto a greased with butter pan. Bake them in preheated to 400 F oven for 20 minutes or until light golden brown.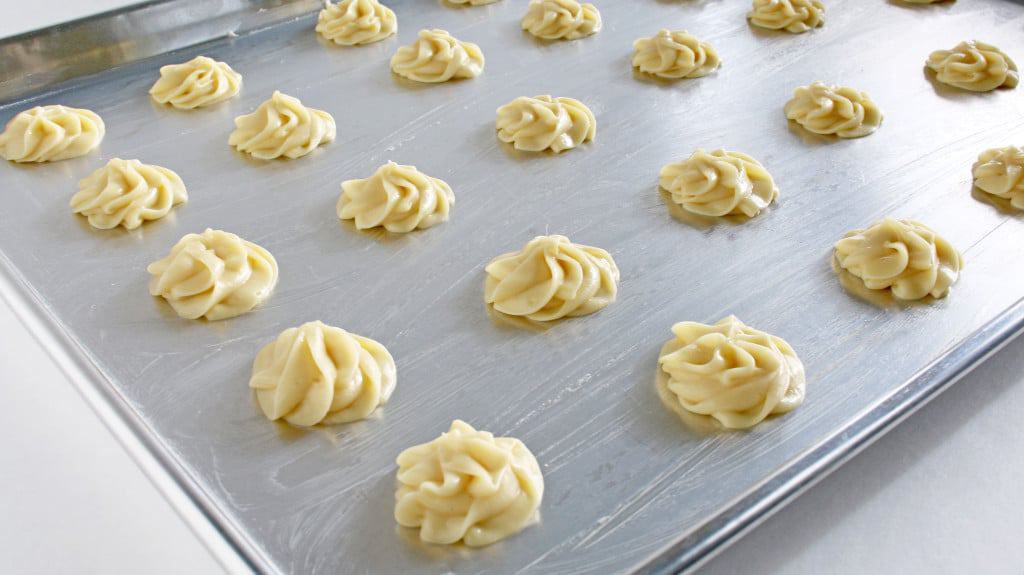 4. While the first batch is baking, repeat the piping step onto a second baking pan (its faster that way to bake them all, and you wouldn't have to preheat the oven every time you need to bake a batch). Remove from the oven and place second pan into the oven right away. Let the puffs cool to warm temperature on a pan for about 15 minutes before removing it from a baking pan.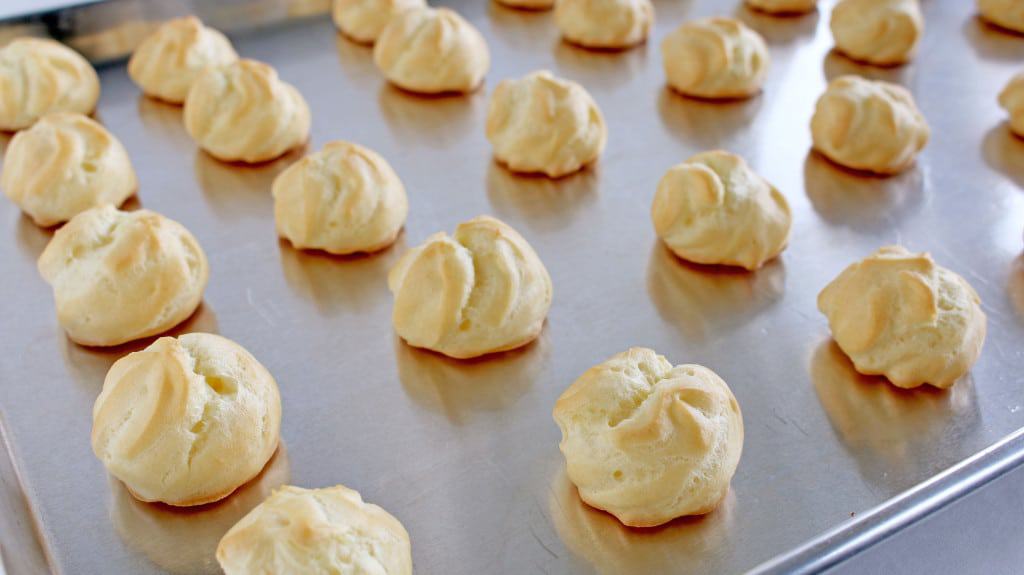 5. Remove baked and cooled puffs (they will still be warm to touch) to any kind of container to finish cooling (do not cover them with any lid before cream piping, because that will make the puffs soft which will make it harder to pipe the cream into them).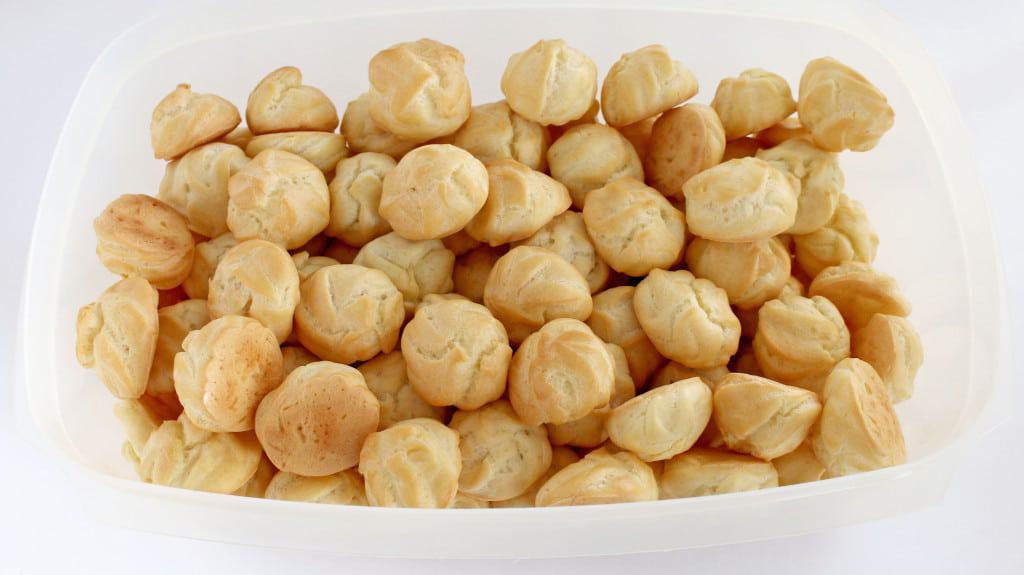 Cream Instructions:
Beat the cream cheese and powdered sugar well, add cool whip and beat it well again until all well mixed. Scrape the sides and the bottom of the mixer bowl with a spatula and beat it well for another minute.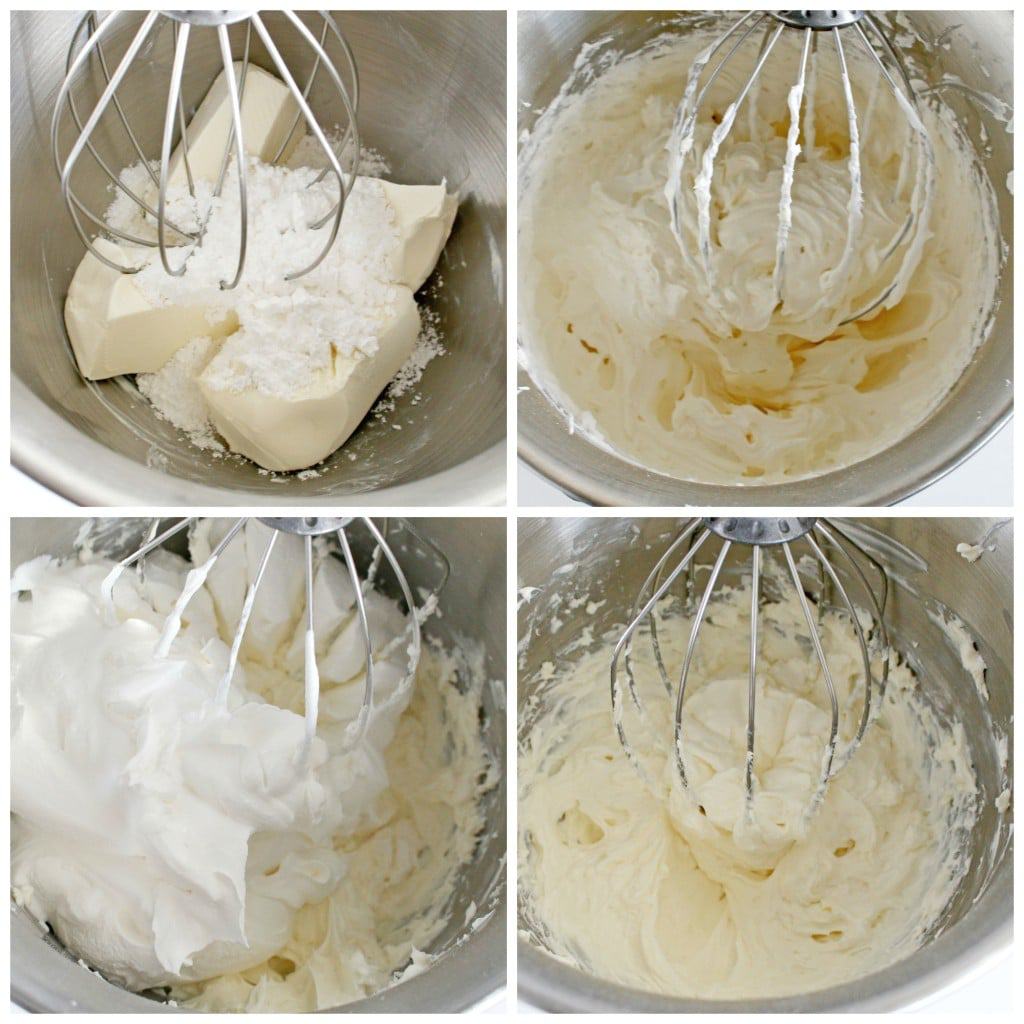 Filling the Puffs with Cream and Storing Instructions:
Attach any pointy star tip decorator (I used Wilton 47). Fill the pastry bag with cream half way. Insert the tip decorator into the cream puff on the bottom side of it and squeeze the cream in. Fill each cream puff about ¾ of its volume inside. Place it into a storage container with lid. If you plan to freeze the puffs, place them into a freezer zip lock bag right after piping. I like to refrigerate puffs in the container with closed lid tightly for the cream puffs to become soft and chewy.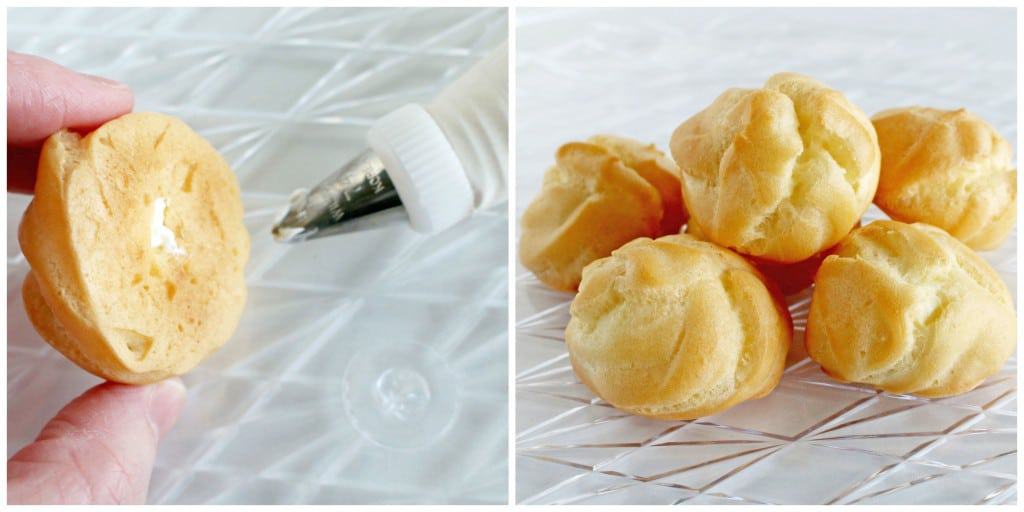 Enjoy!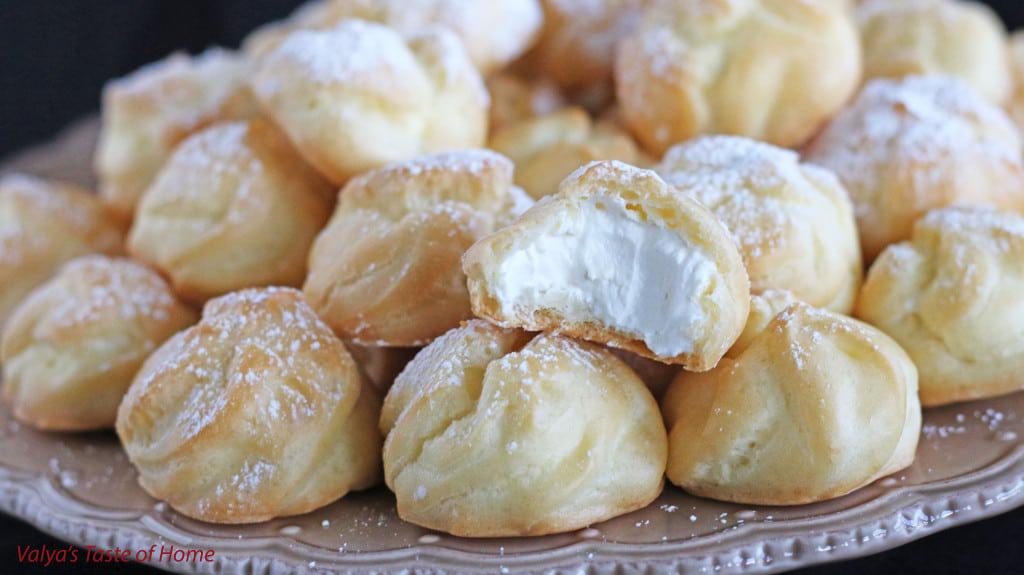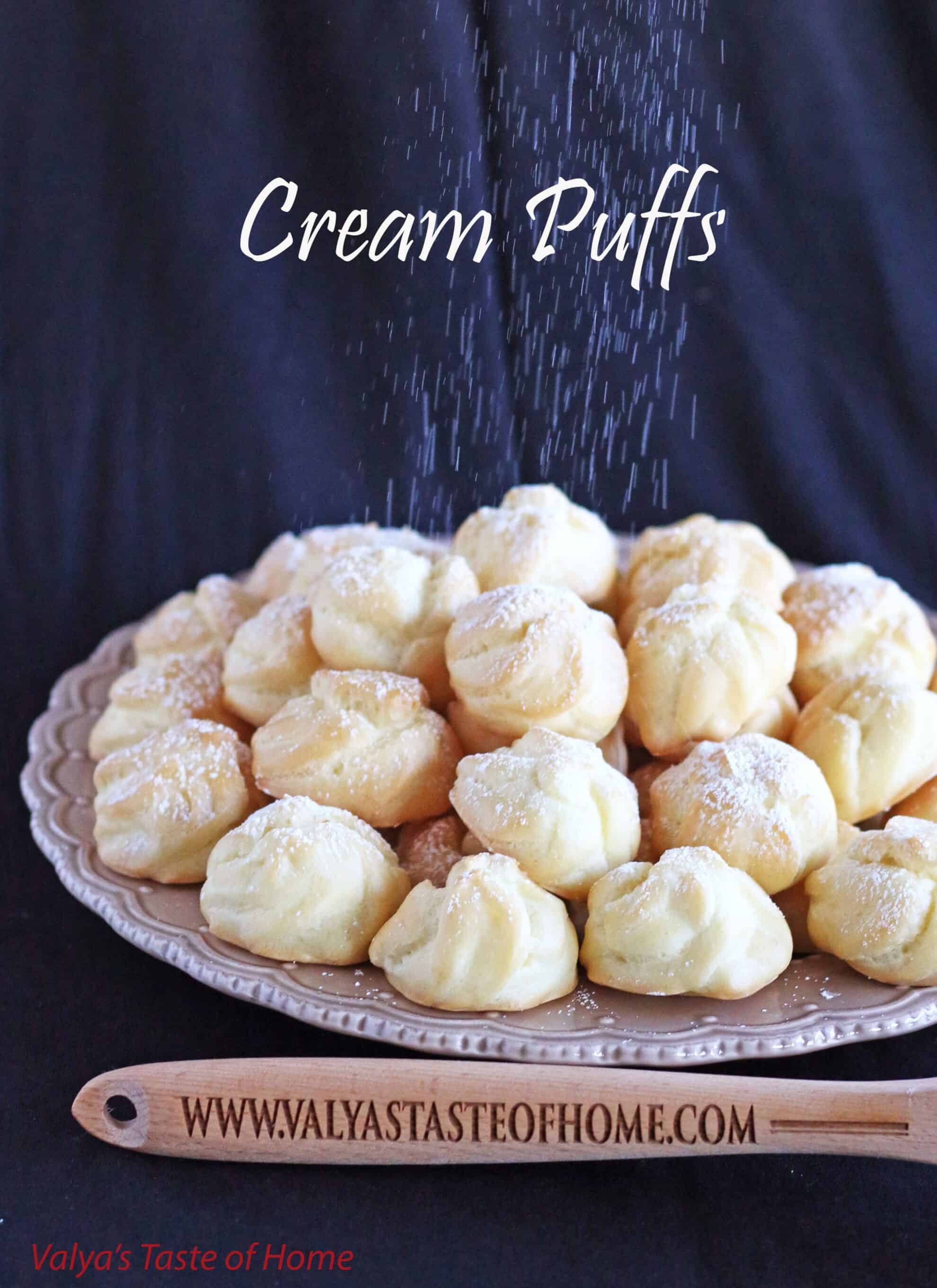 Cream Puffs – Éclairs
Servings
:
115
cream puffs - eclairs
Ingredients
2

cups

– water

2

sticks – margarine

or butter

2

cups

– all-purpose flour

sifted

9

large – eggs

Cream Ingredients:

2

8oz. – softened cream cheese

2

8oz. – cool whipped (thawed)

½

cup

– powdered

confectioners' sugar

You will need piping bag with 1M large cupcake tip
Instructions
Pour water into a larger size pot (about a gallon volume size, it will be easier to mix the flour in), and then add margarine or butter. Turn the cooking temperature to high and place the pot onto a cooking top stove. As the water will gradually heat up the margarine or butter will star to melt. Bring it to a boil. Turn the stove off (keep the pot on the hot stove) and pour sifted flour all at once and start mixing it in really fast. Mix it for about a minute or until you will see no flour clumps and the texture will be smooth and soft. Remove from the stove top, place a pot on the counter top and let the better cool completely to room temperature.

Preheat oven to 400 F. Place cooled batter into a mixer bowl and add 3 eggs at a time, beating the better very well on high mixing speed in-between each egg addition. The better will become more smooth and thinner with each egg addition too. After all the eggs are mixed in, and the texture is smooth, scrape the sides and the bottom of the mixer bowl well and beat it on high for a minute again to make sure that all the better is well mixed.

Fill the pastry bag with the better half way (it's easier to pipe the better out that way) and pipe out roses shapes onto a greased with butter pan. Bake them in preheated to 400 F oven for 20 minutes or until light golden brown.

While the first batch is baking, repeat the piping step onto a second baking pan (its faster that way to bake them all, and you wouldn't have to preheat the oven every time you need to bake a batch). Remove from the oven and place second pan into the oven right away. Let the puffs cool to warm temperature on a pan for about 15 minutes before removing it from a baking pan (at the same time the puffs will harden or dry a little for easier handling and piping).

Remove baked and cooled (they will still be warm to touch) to any kind of container to finish cooling (do not cover them with any lid before cream piping, because that will make the puffs soft which will make it harder to pipe the cream into them).

Cream Instructions:

Beat the cream cheese and powdered sugar well, add cool whip and beat it well again until all well mixed. Scrape the sides and the bottom of the mixer bowl with a spatula and beat it well for another minute.

Filling the Puffs with Cream and Storing Instructions:

Attach any pointy star tip decorator (I used Wilton 47). Fill the pastry bag with cream half way. Insert the tip decorator into the cream puff on the bottom side of it and squeeze the cream in. Fill each cream puff about ¾ of its volume inside. Place it into a storage container with lid. If you plan to freeze the puffs, place them into a freezer zip lock bag right after piping. I like to refrigerate puffs in the container with closed lid tightly for the cream puffs to become soft and chewy.

Enjoy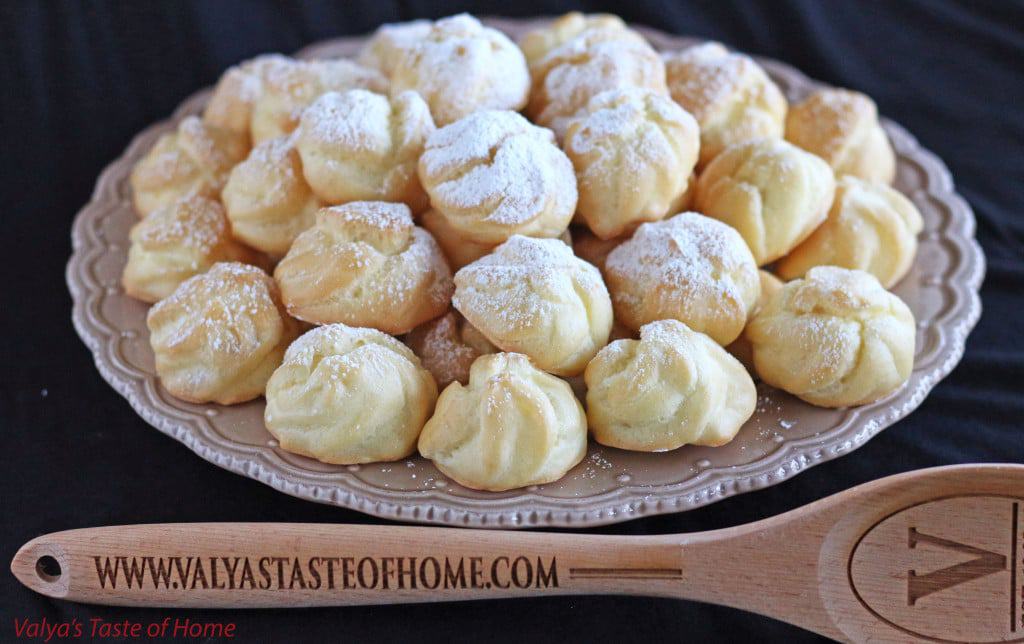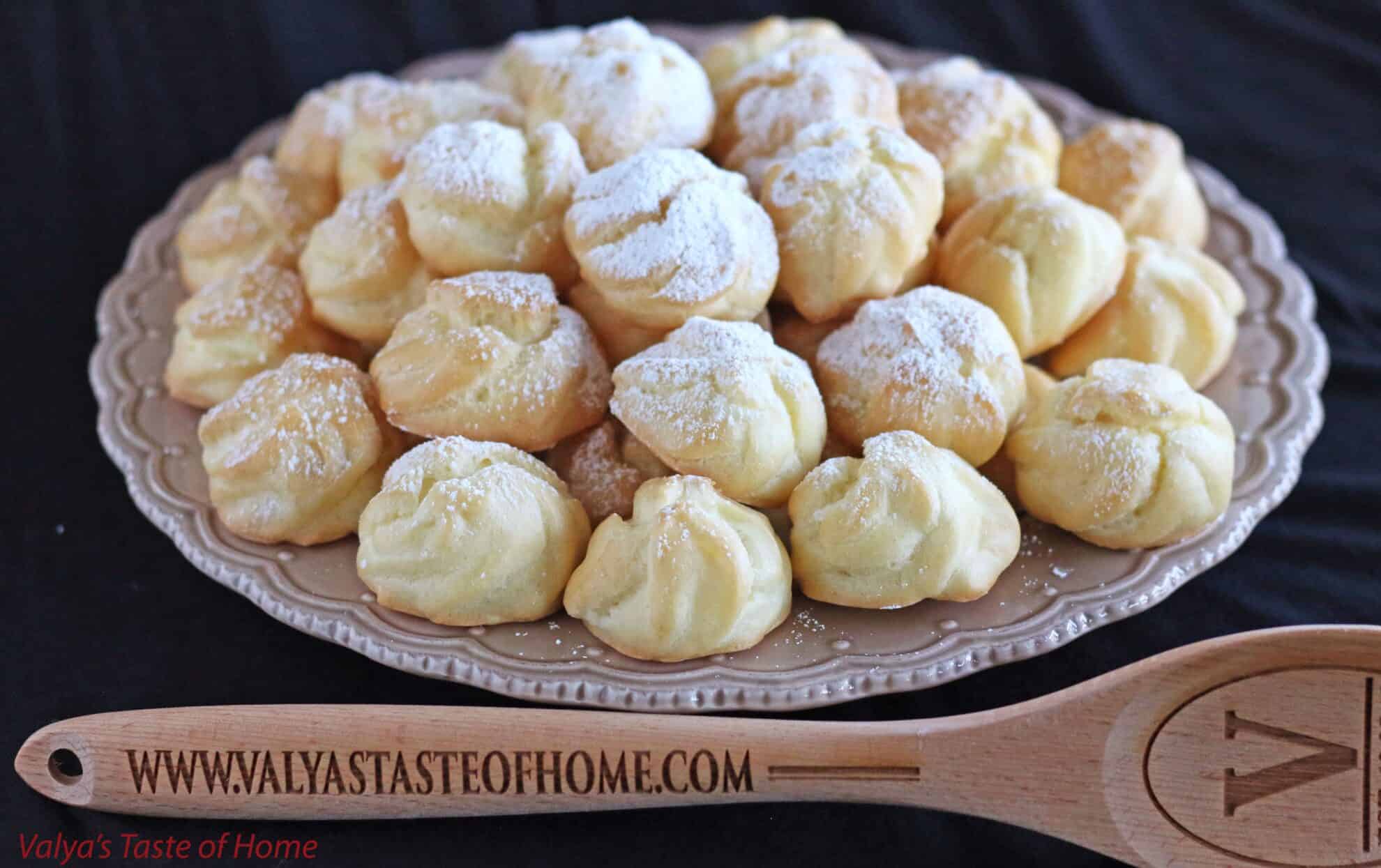 If you make this Cream Puffs – Éclairs recipe please share the picture with me on facebook, instagram or pinterest. Tag it with #valyastasteofhome, I would love to see your creation. 🙂