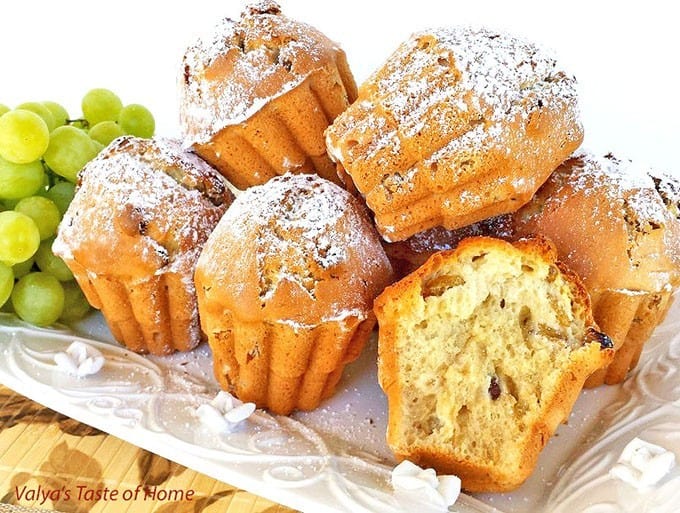 These golden beauties are one of the favorite signature tastes of not only our family's but in my own childhood as well. It was my mom's recipe that was passed down to us.
Being fairly new residents in a new country and culture came with its challenges. In the beginning, I remember that no matter where you went or what you faced that day, coming home to the delicious aroma and taste of this wonderful treat was the epitome of a taste of home! The stresses of the day seemed to just fall away in the comfort of mom's kitchen and company. You automatically relaxed and breathed easier. Mmm...such a sweet memory and feeling! That's just how these muffins taste. This sweet comfort food is heavenly with a glass of milk, coffee, or tea.
Feel free to skip the sweeteners in your cup, because the sweetness of the muffins compensates nicely. You may choose to substitute or add to the batter a variety of other things to your preference to make it even better.
I've made them with frozen blueberries, dried cranberries, poppy seed, brown raisins or other dried fruits or nuts. As you can see these simple muffins can have a variety of different wonderful flavors. Bake your own home sweet home!
Ingredients:
5 large - eggs (room temperature)
2 cups - sugar
2 cups - buttermilk
1 tbsp. - baking soda
3 tsp. - vinegar
2 sticks - butter (melted and cooled)
4 cups - flour
2 cups - yellow raisins
¼ cup -powdered sugar (for dusting the top of muffins)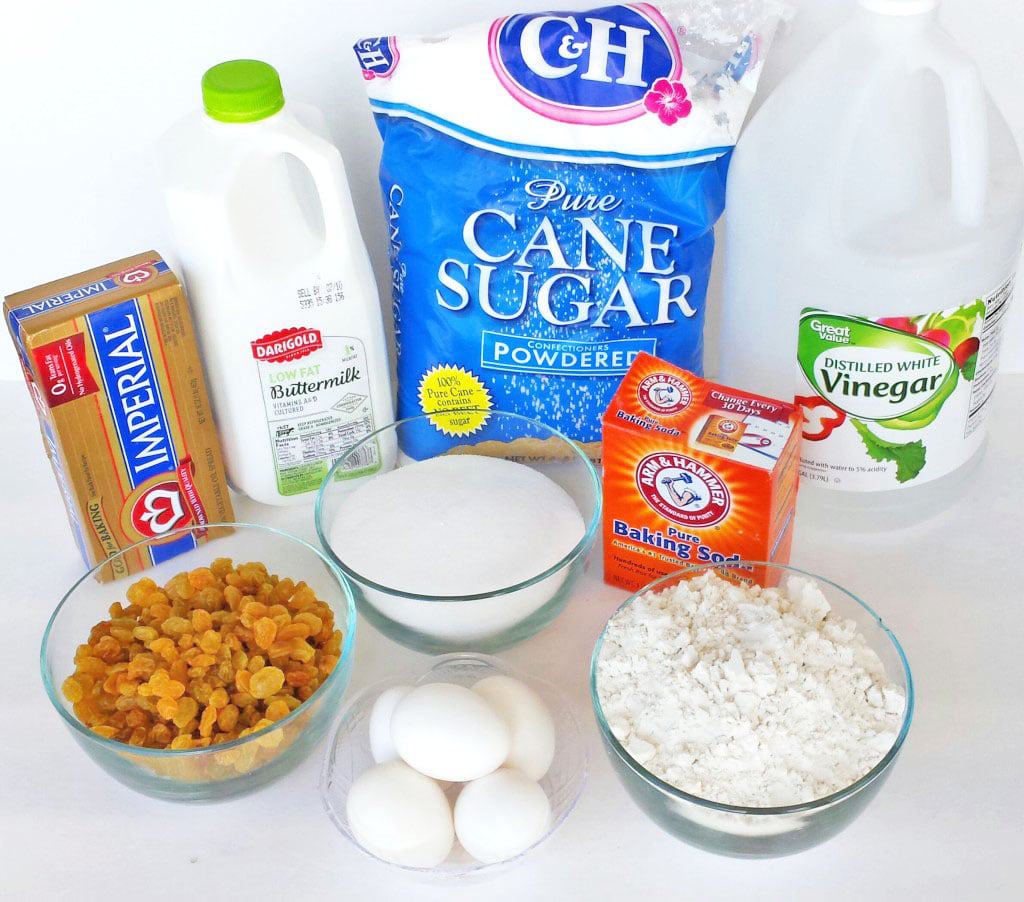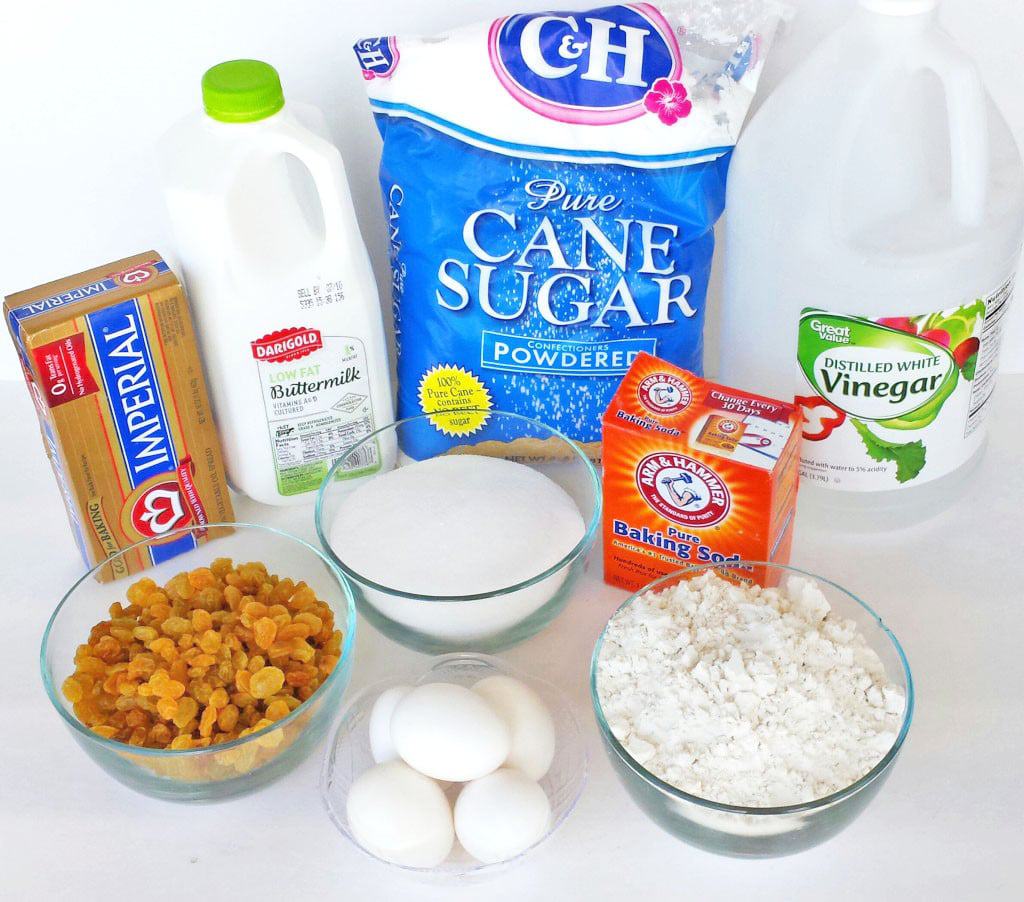 Prepare First:
1. Place 2 sticks of butter in a small bowl and melt them in the microwave for 1 minute. Set aside and let it cool.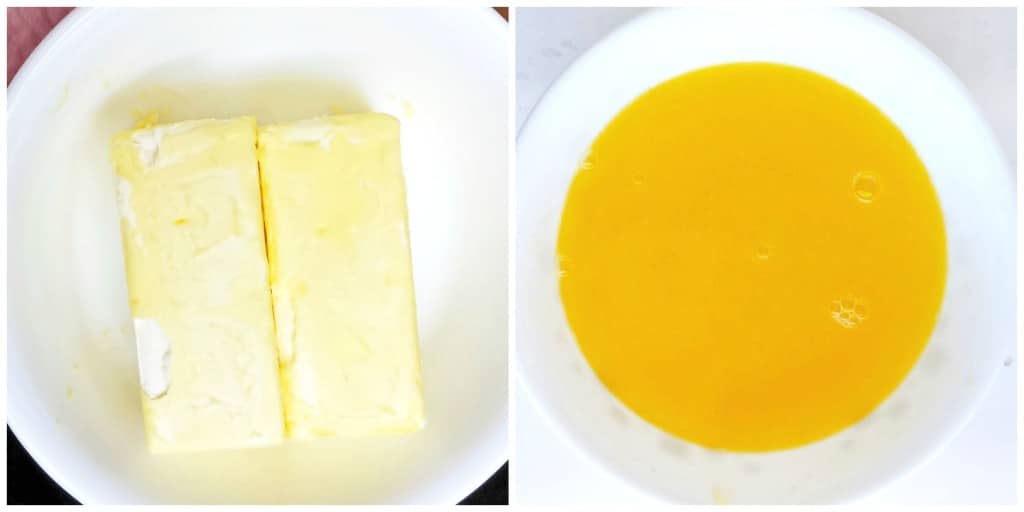 2. Place raisins in a small bowl and add 2 cups of boiling water. Let them soak for 10 minutes for cleansing. Drain and rinse raisins. Set aside in a strainer to allow excess water to drain.


Batter Instructions:
1. Preheat oven to 400 F. In the electric mixer bowl add eggs, sugar and mix on high speed for 10 minutes. Reduce speed to low and pour in 2 cups of buttermilk. Mix on medium speed for 2 minutes. Then add baking soda activated with vinegar. Mix for another minute, and then add melted and cooled butter.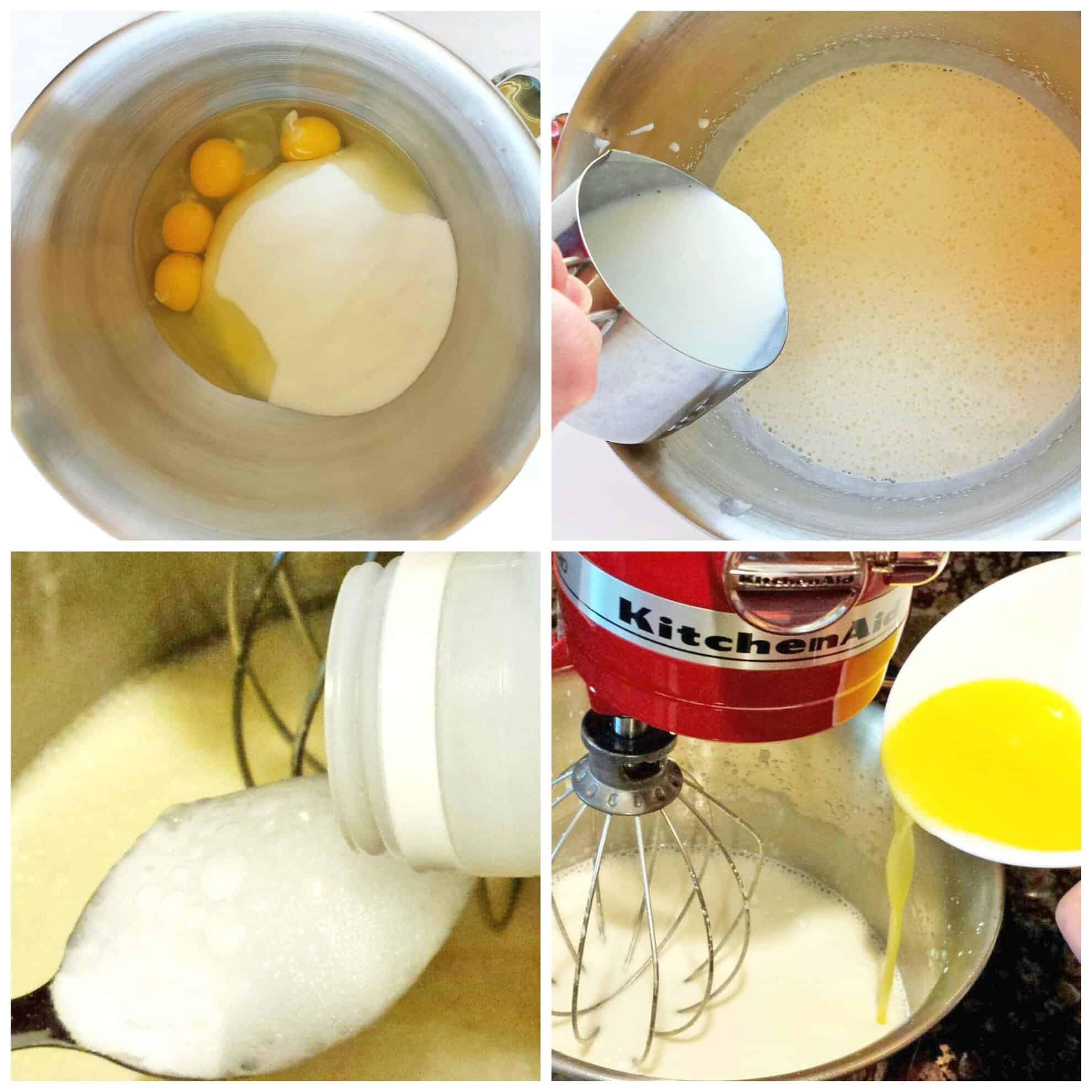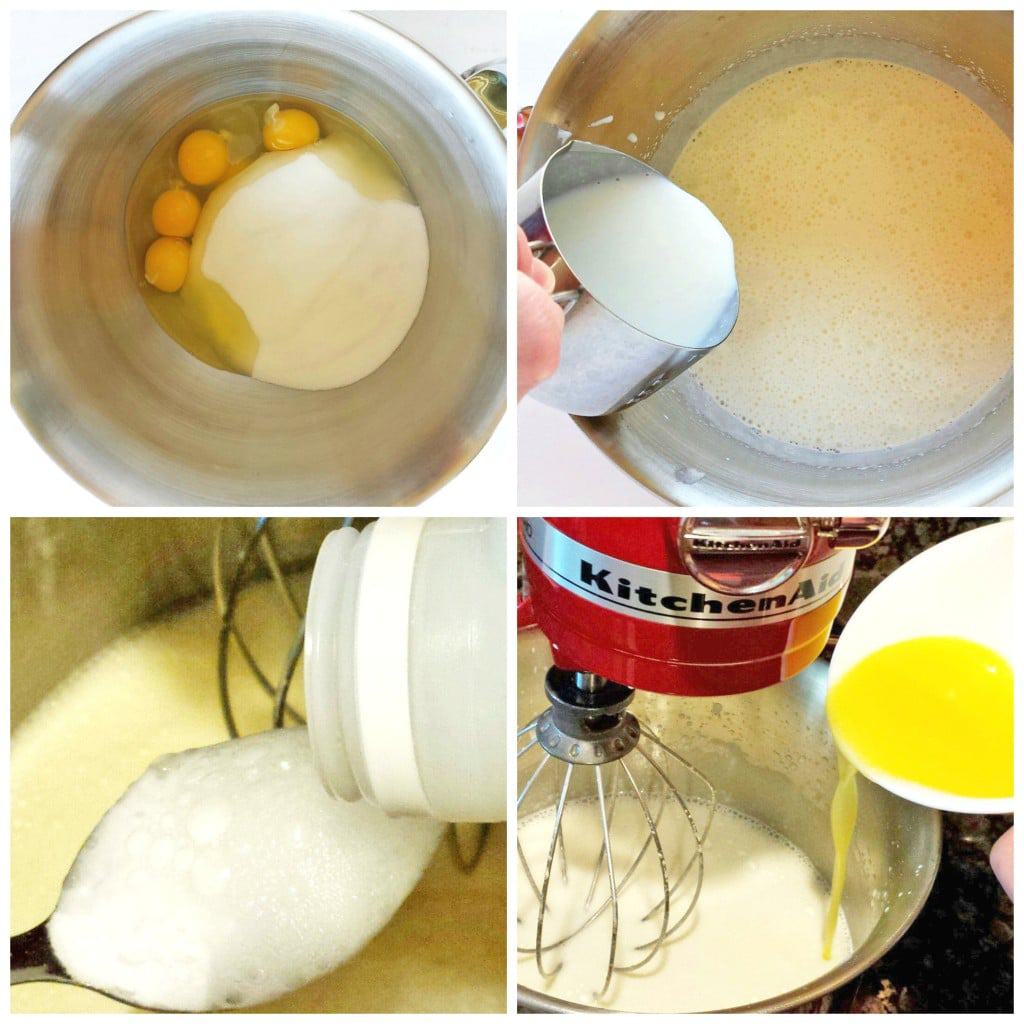 2. Add flour, one cup at a time, and continue mixing on low until all the flour is well incorporated. Add raisins and mix it on low for 1 minute, or until raisins are well mixed in.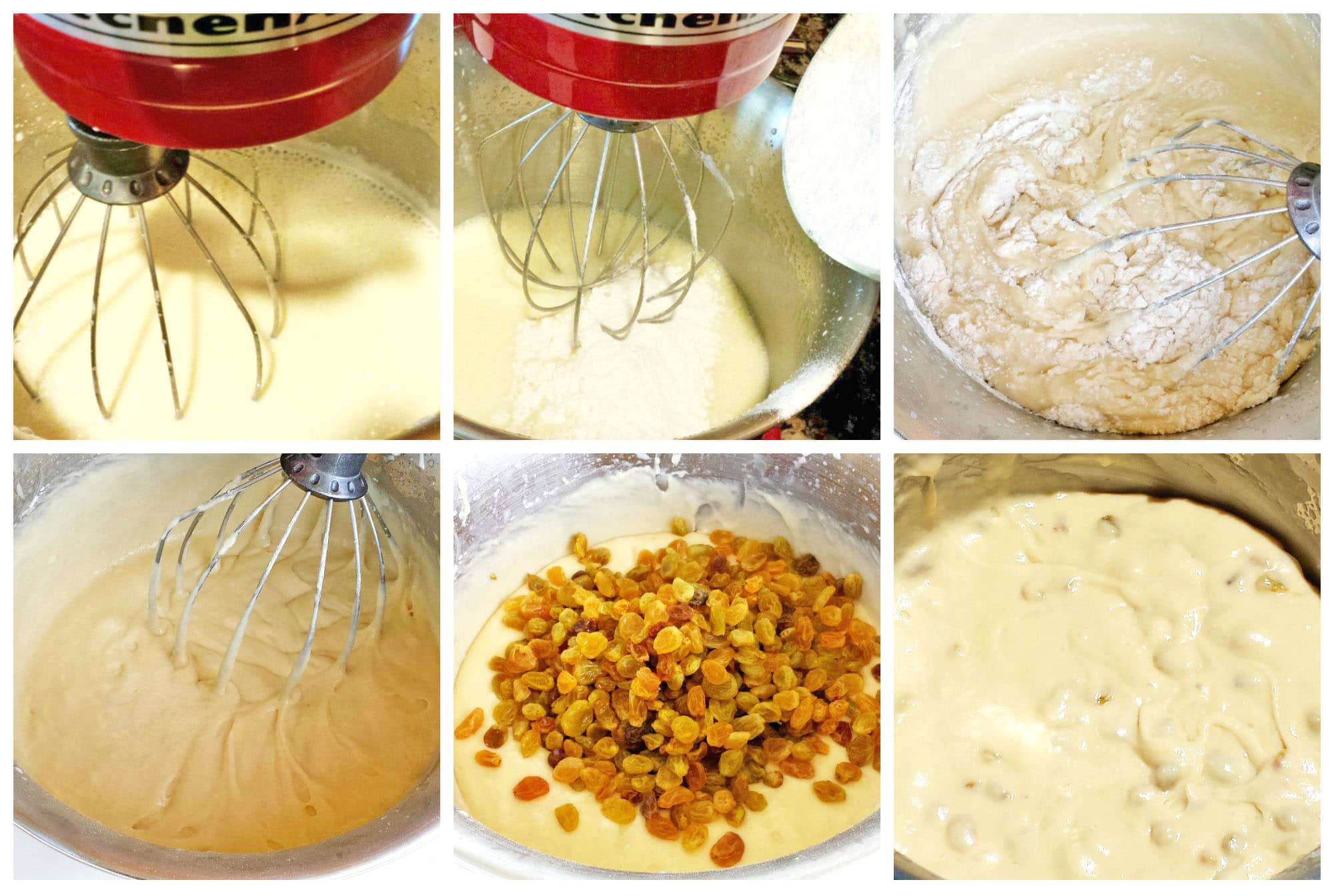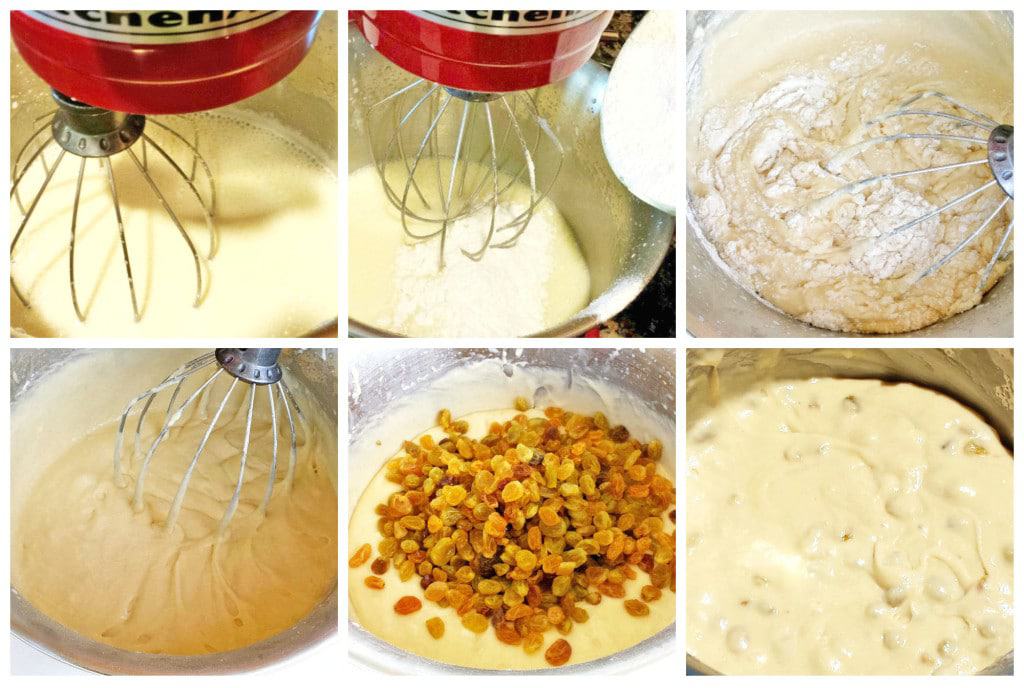 Prep & Fill Muffin Molds:
In a bittersweet moment, my sisters and I split these muffin molds after our mom passed away. They're unique, but you may get something similar at Bed Bath and Beyond.
1. Preheat the oven to 400 F. Place 2 tbsp. of butter in a cup. Melt it in the microwave for 30 seconds and grease the molds with melted butter. Divide batter between the molds, filling them ¾ full. Place them on a small pizza pan and bake (one batch at a time) for 35-40 minutes at 400 F, or until an inserted toothpick comes out clean.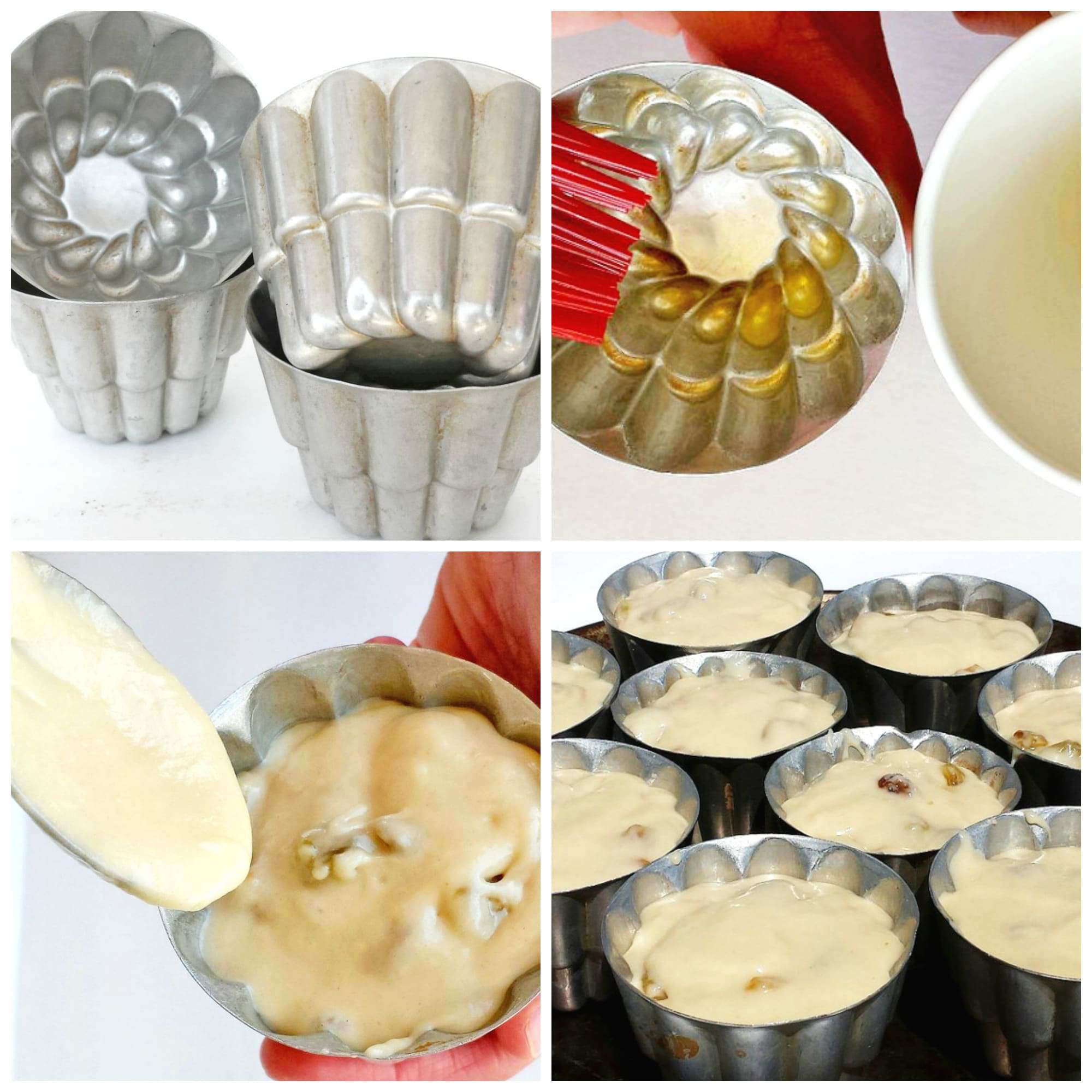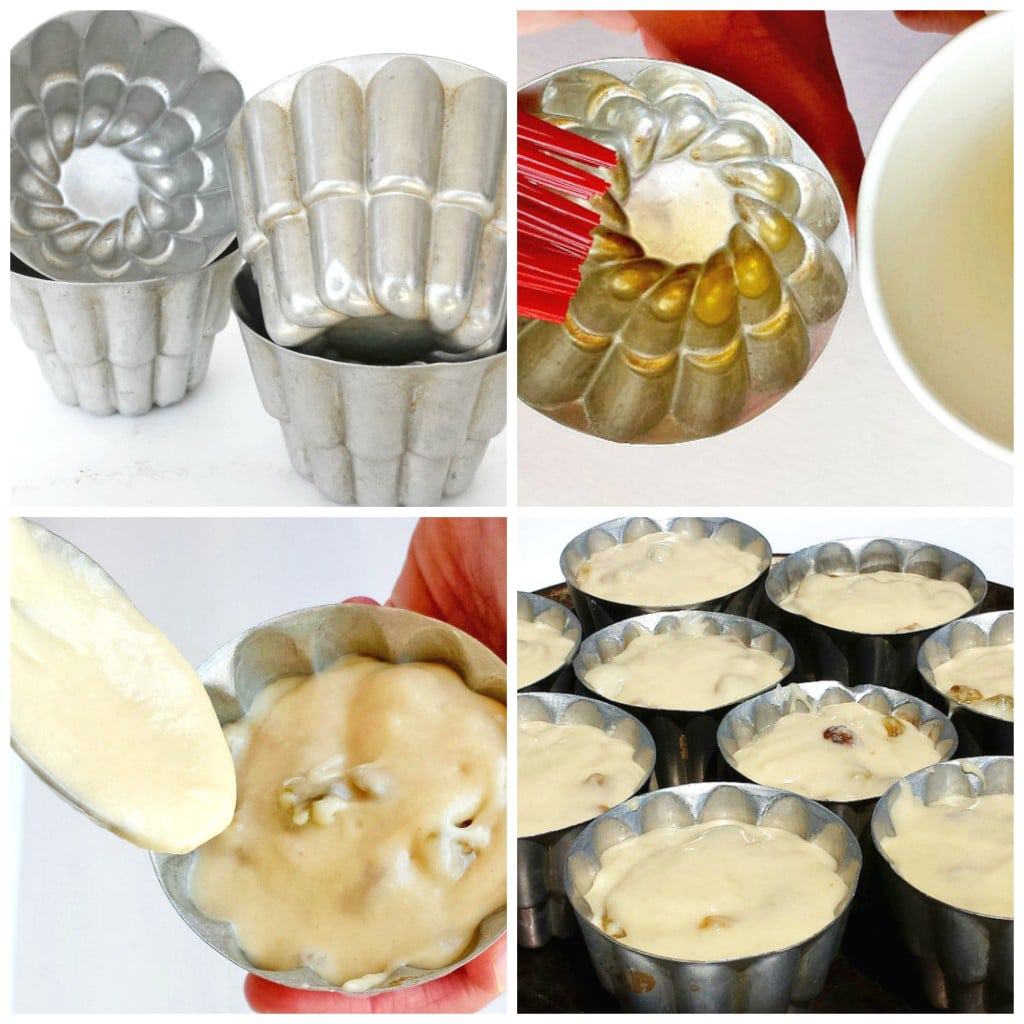 2. Remove from the oven and let them cool for 5 minutes before removing the muffins from the molds. Let them cool completely before dusting with powdered sugar.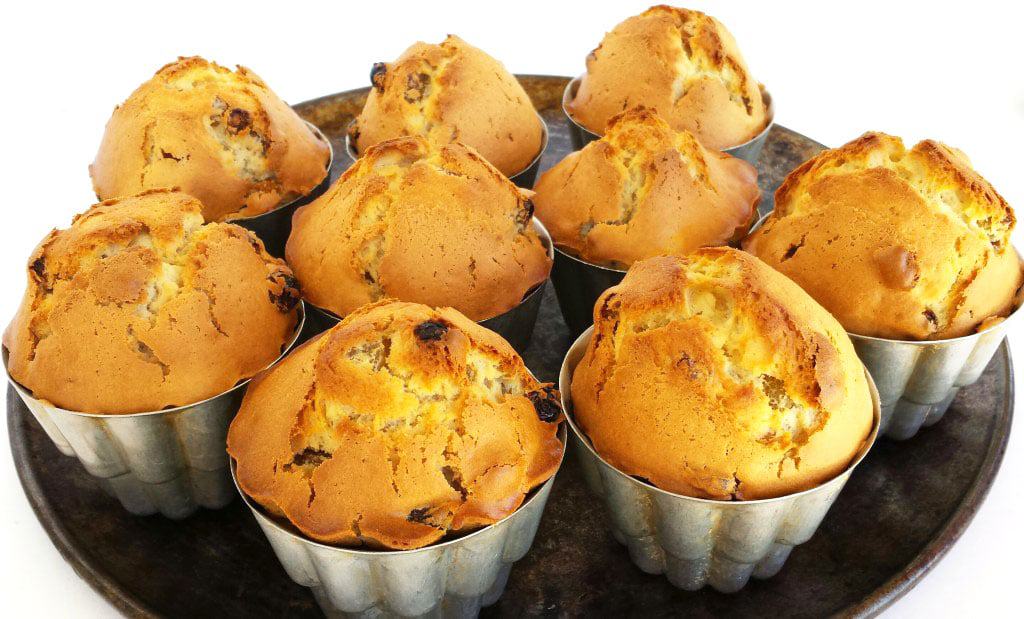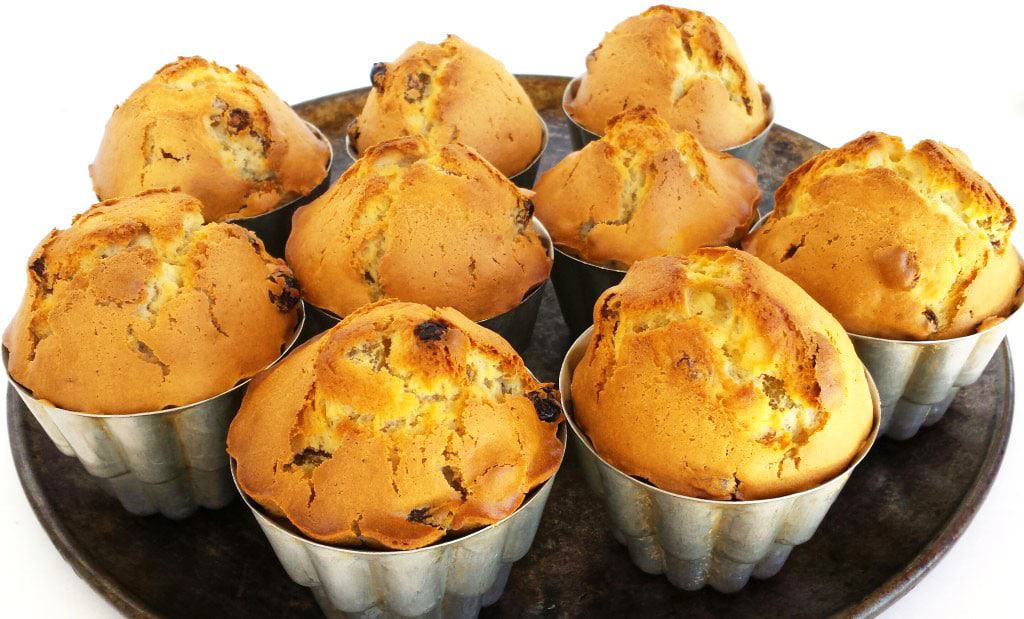 3. Enjoy with a cold cup of milk or a hot cup of coffee! 🙂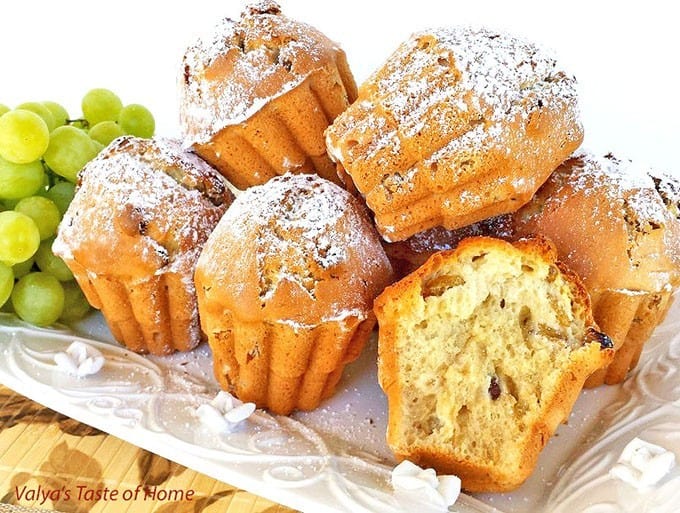 Buttermilk Muffins with Raisins
Ingredients
5

large - eggs

room temperature

2

cups

- sugar

2

cups

- buttermilk

1

tbsp.

- baking soda

3

tsp.

- vinegar

2

sticks - butter

melted and cooled

4

cups

- flour

2

cups

- yellow raisins

¼

cup

-powdered sugar

for dusting the top of muffins
Instructions
Prepare First:

Place 2 sticks of butter in a small bowl and melt them in the microwave for 1 minute. Set aside and let it cool.

Place raisins in a small bowl and add 2 cups of boiling water. Let them soak for 10 minutes for cleansing. Drain and rinse raisins. Set aside in a strainer to allow excess water to drain.

Batter Instructions:

Preheat oven to 400 F. In the electric mixer bowl add eggs, sugar and mix on high speed for 10 minutes. Reduce speed to low and pour in 2 cups of buttermilk. Mix on medium speed for 2 minutes. Then add baking soda activated with vinegar. Mix for another minute, and then add melted and cooled butter.

Add flour, one cup at a time, and continue mixing on low until all the flour is well incorporated. Add raisins and mix it on low for 1 minute, or until raisins are well mixed in.

Prep & Fill Muffin Molds:

In a bittersweet moment, my sisters and I split these muffin molds after our mom passed away. They're unique, but you may get something similar at Bed Bath and Beyond.

Preheat the oven to 400 F. Place 2 tbsp. of butter in a cup. Melt it in the microwave for 30 seconds and grease the molds with melted butter. Divide batter between the molds, filling them ¾ full. Place them on a small pizza pan and bake (one batch at a time) for 35-40 minutes at 400 F, or until an inserted toothpick comes out clean.

Remove from the oven and let them cool for 5 minutes before removing the muffins from the molds. Let them cool completely before dusting with powdered sugar.

Enjoy with a cold cup of milk or a hot cup of coffee! 🙂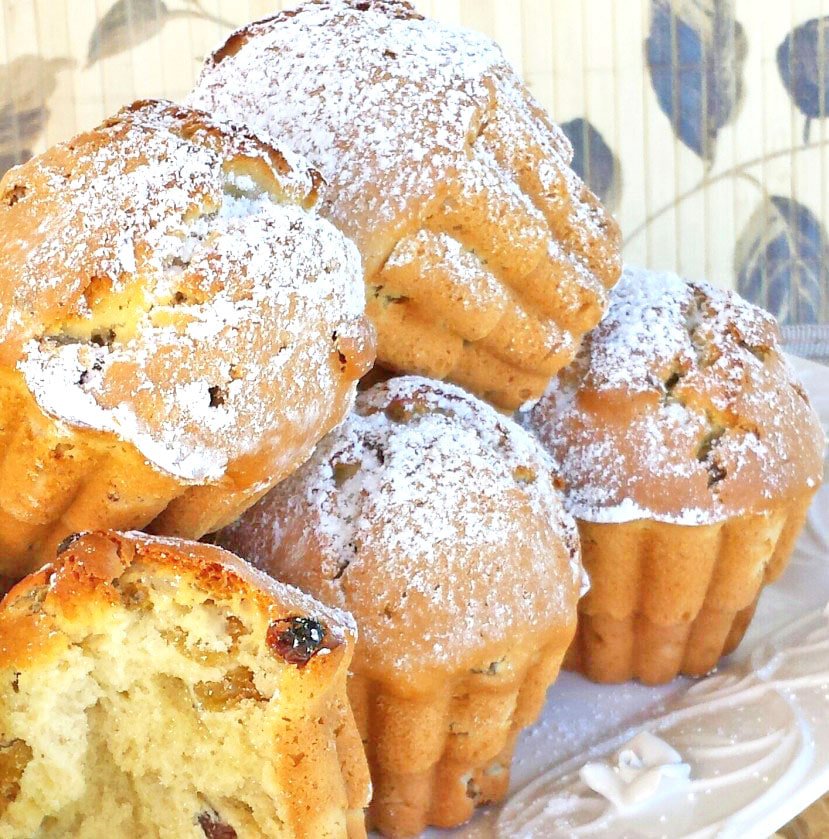 If you make this recipe please share a picture with me on Snapchat, Facebook, Instagram or Pinterest. Tag with #valyastasteofhome. I'd love to see your creations! 🙂
Kitchen items I used in making this recipe:
(If you need any of these items, simply click on the picture to order. Thank you for your support!)