This delightful Tomato Cucumber and Mozzarella Cheese Kabob Appetizers seasoned with salt and pepper and drizzled in olive oil are so easy to make and tastes absolutely tasty. They can be made hours before a get-together and refrigerated until you're ready to serve. They are gorgeous for parties and it helps get kids to eat more vegetables.
You may use many dressing variations. For formal gatherings, you might use balsamic dressing instead of olive oil. Or display a selection for guests to choose.
The dressing you add can make quite a difference for kids as well. And determine how much, or even if they will eat their vegetables. The veggie-poppers taste amazing either way you serve them. Especially if you use organic or homegrown vegetables.
These appetizers look presentably beautiful and attractive on the table and are great for any holiday or gathering. Kids who don't like veggies go for these veggie kabobs simply because "they are cute" and also enjoy them very much. Give it a try and let me know what you think of this colorful creation! 🙂
Tomato Cucumber and Mozzarella Cheese Kabob Appetizers Ingredients
Organic Red and Yellow cherry tomatoes
Organic cucumber
Mozzarella cheese
Extra virgin olive oil (or extra light virgin olive oil)
Sea salt
Ground black pepper
Mini kabob skewers
How to Assemble the Tomato Cucumber and Mozzarella Cheese Kabob Appetizers
Rinse and pat dry all the vegetables with a clean paper towel. Slice cucumbers into thick slices. Cut cherry tomatoes in half. Set aside until ready for use.
Cut mozzarella (or the cheese of your choice) cheese into neat cubes.
Thread red cherry tomato, cucumber, cheese, and yellow tomato onto a mini skewer, leaving a small gap in between each item. Repeat with all skewers.
Drizzle olive oil or balsamic glaze, and sprinkle salt and pepper to taste.
Note: If you're planning to prepare these vegetables and cheese kabobs ahead of time (up to 4 to 6 hours in advance of the event) then thread the veggies and cheese and place them into a container that has a lid and refrigerate until ready to serve. Before serving drizzle with oil and sprinkle with seasoning.
Enjoy as pre-meal appetizers or with a homecooked meal such as these tasty mashed potatoes and steak.
If you make these Tomatoes Cucumber and Mozzarella Cheese Kabob Appetizers, please share a picture with me on Facebook, Instagram, or Pinterest. Tag with #valyastasteofhome. I'd love to see your creations!
Looking for more veggie appetizers? Please check these out:
Check out all appetizer recipes Here.
Kitchen items I used in making this recipe:
(If you need any of these items, simply click on the picture to order. These are Amazon affiliate links. That means when you click on the picture link and make a purchase I make a small commission. Your cost for the purchase does not change. Thank you for your support!)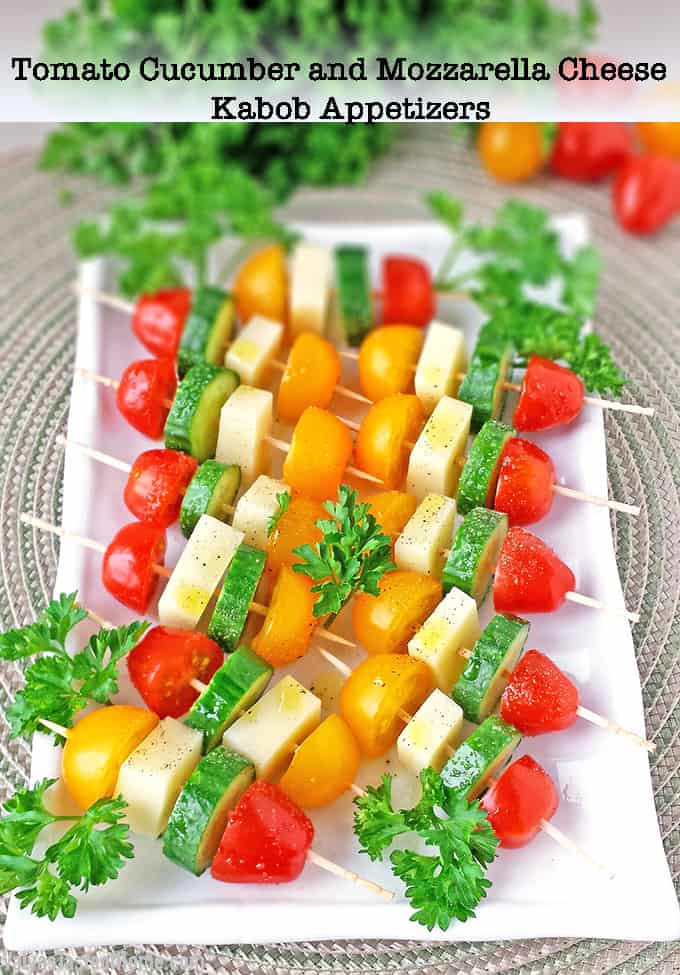 This recipe was originally posted on 01 - 14 - 2015 and updated 12 - 26 - 2020.