Ah, the sweet flavors of Fall! These super-soft, Sweet Swirl Apple Buns are a wonderful comfort Fall treat. The juicy grated apples make them incredibly moist, delicious, and irresistible! They look so beautiful and glossy after being brushed with the egg glaze and sprinkled with organic raw sugar. You just wanna eat them raw, like cookie dough! 😉
I love working with yeast dough and this recipe is a lot of fun to make. And even more fun when they're enjoyed. Of course, who wouldn't like to eat these sweet, pillow-soft treats warm and fresh out of the oven? Yum! Yes, the process is a little time-consuming, but believe me - they are so worth it!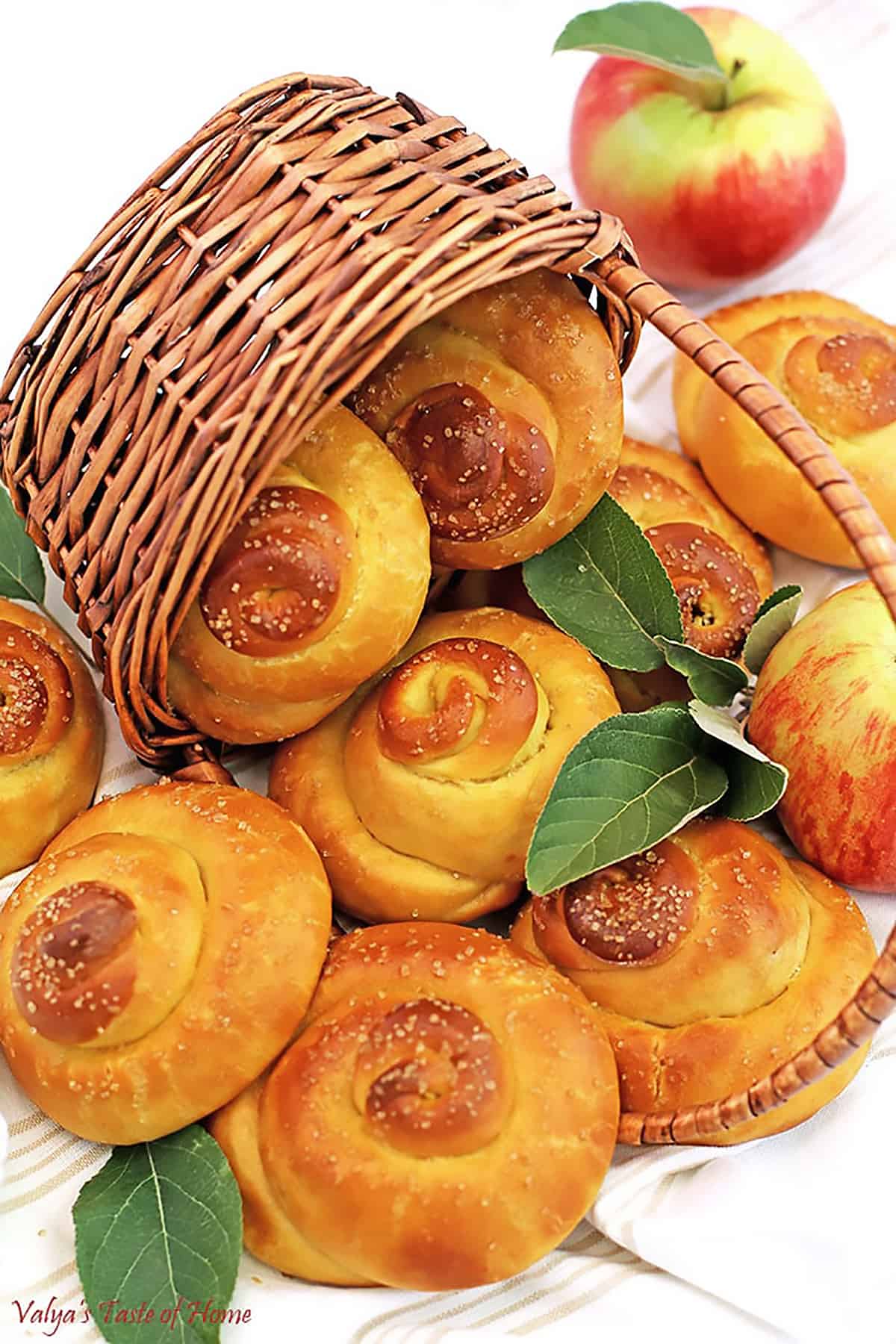 If the recipe portion is too large for your family, they are also freezer-friendly. And a handy time saver for a busy on the go schedule. Simply pull one out of the freezer the night before to thaw and you've got a tasty breakfast to grab and go. They're perfect for lunch boxes as well. So, enjoy them, my friends!
Table of Contents
📋 Recipe Ingredients
Apple Swirl Buns Batter Ingredients
Warm water
Organic sugar
Dry yeast
Whole milk (boiled and cooled)
Unsalted butter
Mayonnaise (I used homemade mayonnaise)
Large eggs (I used home-raised chicken eggs)
Organic sugar
Sea salt
Pure vanilla extract
Organic all-purpose flour
Apple Swirl Buns Filling Ingredients
Jonagold apples (Fuji, Gala, Honey-crisp, Granny Smith apples are great to use as well)
Apple Swirl Buns Brushing and Sprinkling Ingredients
Large eggs (I used home-raised chicken eggs)
Water
Organic raw cane sugar
🔪 Recipe Instructions
How to Make Apple Swirl Buns
First, I prepare everything for the dough. Start by proofing the yeast. Sprinkle sugar into a glass of warm water. Stir just until nearly dissolved, and add yeast. Stir until all is dissolved. Set aside to proof (it takes about 30 minutes before it's ready for you).
Place butter into a small saucepan and melt it over a hot burner. Set aside to cool until just barely warm.
After the butter has cooled to warm, add mayonnaise and stir to combine well. Set aside until ready for use.
Pour milk into a separate small saucepan. Bring it to a boil. Set aside to cool just until barely warm. After the milk cools, add the proofed yeast mixture to the milk. Stir it well and set it aside until ready for use.
Beat eggs and sugar for 5 minutes on high. Reduce the speed to low and add salt, vanilla, milk, yeast/milk mixture, and melted butter/mayonnaise mixture.
Switch to the dough hook attachment and gradually add sifted flour; one cup at a time. Then continue adding ½ cup of flour thereafter, scraping down the sides of the bowl with each flour addition. The dough should be soft and not sticky to a rubber spatula.
Cover the bowl of dough with plastic food wrap. Puncture about 5 small holes in the plastic wrap with a knife for the dough to breathe (while preventing hardening on the top), then place a clean kitchen towel over the plastic wrap. Place the bowl in a warm place for the dough to rise for about 2 hours.
After the dough rises, transfer it onto a floured work surface.
Rinse, peel and grate 2 apples using a carrot grater.
How to Assemble Apple Swirl Buns Batter
Split the dough into 3 chunks. Cover 2 of them with plastic food wrap. Divide the first chunk into 3 oz. balls. (Cover the rest of the dough pieces with plastic wrap to prevent from drying.) Using a rolling pin, roll out about a 5 X 13-inch rectangular shape.
Place ¾ cup of grated apples on one edge of length. Roll it into a log and pinch ends carefully.
Hold one end of the log up and swirl it into a circle to create the bun. Fold the other end under the bun. Then tuck in the top edges to make the cute-looking rose bun. It will be about 3 inches (7.6 cm) in diameter before proofing.
Preheat the oven to 350 F (180 C). Place buns onto a lined parchment paper 16 X 22 baking sheet. Cover the pan with a dry and clean kitchen towel and allow them to proof for 20 minutes. While the buns are rising make the egg wash. Combine egg with water and beat it with a fork.
TIP: I make a separate egg wash for each pan because the egg wash gets old by the time you're done assembling all the buns.
Brush proofed buns with egg wash and sprinkle with raw organic cake sugar.
⏲️ Baking time
Bake the buns for 40 minutes or until golden brown. Remove from the oven and let them cool to warm before removing buns from the parchment paper. While the buns are baking repeat the same steps with the rest of the dough, apple shredding, and egg wash.
Enjoy them warm with a cup of coffee, tea, or cold milk.
If you make this Sweet Swirl Apple Buns Recipe, please share a picture with me on Facebook, Instagram, or Pinterest. Tag with #valyastasteofhome. I'd love to see your creations!
📖 Recipe Card
🥐 Similar Recipes
Kitchen items I used in making this recipe:
(If you need any of these items, simply click on the picture to order. These are Amazon affiliate links. That means when you click on the picture link and make a purchase I make a small commission. Your cost for the purchase does not change. Thank you for your support!)