This Sweet Braided Easter Bread with Raisins is one of the items we make for Easter. It isn't difficult to make but is very much loved. In fact, your Kitchen Aid mixer does most of the work for you.
I love yellow raisins very much and use them in many recipes such as buttermilk mini muffins is one of them. I load this bread with two cups of it, but you may reduce that to one cup or use poppy seed instead if you don't like raisins.
The bread itself is very soft, moist, and sweet, the raisins add a nice touch of sour to it which adds a bit of a varied taste. We all absolutely love to enjoy this bread with a little butter spread and a hot cup of tea or coffee.
Spring is my favorite season of the year! I love observing nature bursting into life with vibrant colors and how remarkably the scenery changes. Grass becomes green and lush, leaves start to sprout, tulips, daffodils bloom, and it finally warms up. So beautiful!
With all these changes my favorite holiday comes to mind. Easter. A holiday of life, love, and hope. This holiday is a personal one and means a lot to me. My Savior died to save me and was risen, gifting my internal life.
Traditionally, we cook and bake lots of goods to celebrate this special holiday. After a heartfelt church service, we love to enjoy a festive lunch with our family to celebrate and praise the Lord. Yes, God is great! Happy Spring and Easter to all!
Jump To
📋 Recipe Ingredients
Warm milk
Active dry yeast
Sugar
Eggs
Unsalted butter (melted and cooled)
Salt
Vanilla extract
All-purpose flour
Golden raisins
Braided Bread Egg Wash Ingredients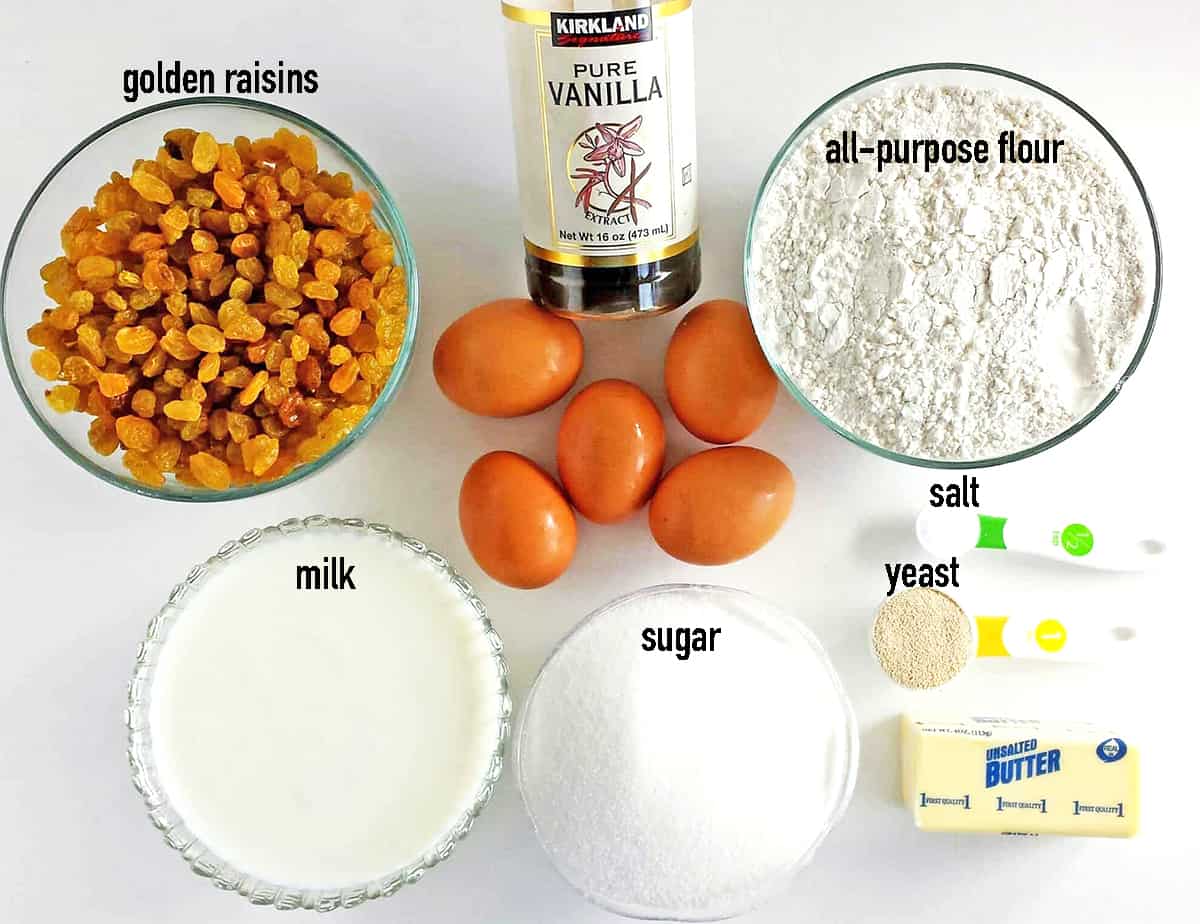 🔪 Recipe Instructions
How to Make Sweet Braided Easter Bread with Raisins
Place 2 cups of raisins into a bowl. Pour boiling water until the water covers the raisins. Let it soak for 15 minutes. Then drain the water and rinse the raisins. Set aside until ready for use.
Next, heat milk in a small saucepan to just barely warm over a stovetop burner on high temp (for about 30 seconds or so). Transfer the milk into a small glass bowl. Add ¼ cup of sugar and stir well until the sugar is dissolved.

Sprinkle yeast over milk, stir it in, and set it aside in a warm place to proof for 15 minutes.
Melt butter and set it aside to cool.
In the electric mixer bowl, beat eggs and sugar on high for 10 minutes or until foamy and pale yellow in color.
Reduce mixing speed to low and mix in the yeast mixture.
Continue mixing on low while adding salt and vanilla extract.
Then add melted butter, continue to mix.
Finally, add raisins, switch to dough hook attachment, and add flour 1 cup at a time until all 6 cups of flour are incorporated. (It takes about 15 minutes for the dough to form well.)
NOTE: The dough has enough flour when it's not sticking to the spatula or fingers even it may look and feel too soft.
⏲️ Dough Rising Time
Let the dough rise in a warm environment for 2 hours.
How to Braid Sweet Easter Bread
After the dough tripled in volume, transfer it onto a working surface (I use a large cutting board) dusted with flour. Split the dough in half.
Take one-half of the dough and roll into a log again. Split it into four equal pieces.
Roll each of the four smaller pieces into thin, long logs (about 1.5-foot-long and 1 inch thick).
Pinch the ends of all four thin logs together.
Braid them into a nice and even braid as it is shown in the picture (I have video instructions on my Instagram account under Easter Bread bubble on how to make and braid this bread).
Pinch the opposite end of the braided loaf together, then place on a greased pan.
Making Egg Wash and Brushing Instructions
Using a hand whisk, whisk egg, and milk together until all incorporated.
Brush the egg wash generously over the top of the challah.
Repeat the same steps with the second half of the dough.
Let the braided challah's rise in a warm place for another 45 minutes to an hour. It will expand nicely and close the gaps.
⏲️ Bread Baking Time
Heat the oven to 350 F. Bake each pan for 25 minutes or both pans for 30 minutes rotating them 10 minutes before the baking time ends.
Remove from the oven and let them cool for 15 minutes before removing them from the pan.
NOTE: I prefer to line baking pans with parchment paper for baking; it's easier to separate the bread from the paper than the pan. After they're finished baking, the egg glaze runs down the loaf and gets stuck to the pan pretty firmly. Parchment paper goes a long way to alleviate that headache.
Lastly, it's now time to enjoy the delicious bread with a little butter spread and some tea or a cup of homemade latte!
If you make this Sweet Braided Easter Bread with Raisins, please share a picture with me on Facebook, Instagram, or Pinterest. Tag with #valyastasteofhome. I'd love to see your creations! 
📖 Recipe Card
🍞 Similar Recipes