What holiday would dessert plate be complete without these incredible Christmas Spritz Cookies? These may be the most popular, classic Christmas cookies you'll ever make. I have been making these Spritz cookies for years and they've become a traditional Christmas cookie recipe in our family.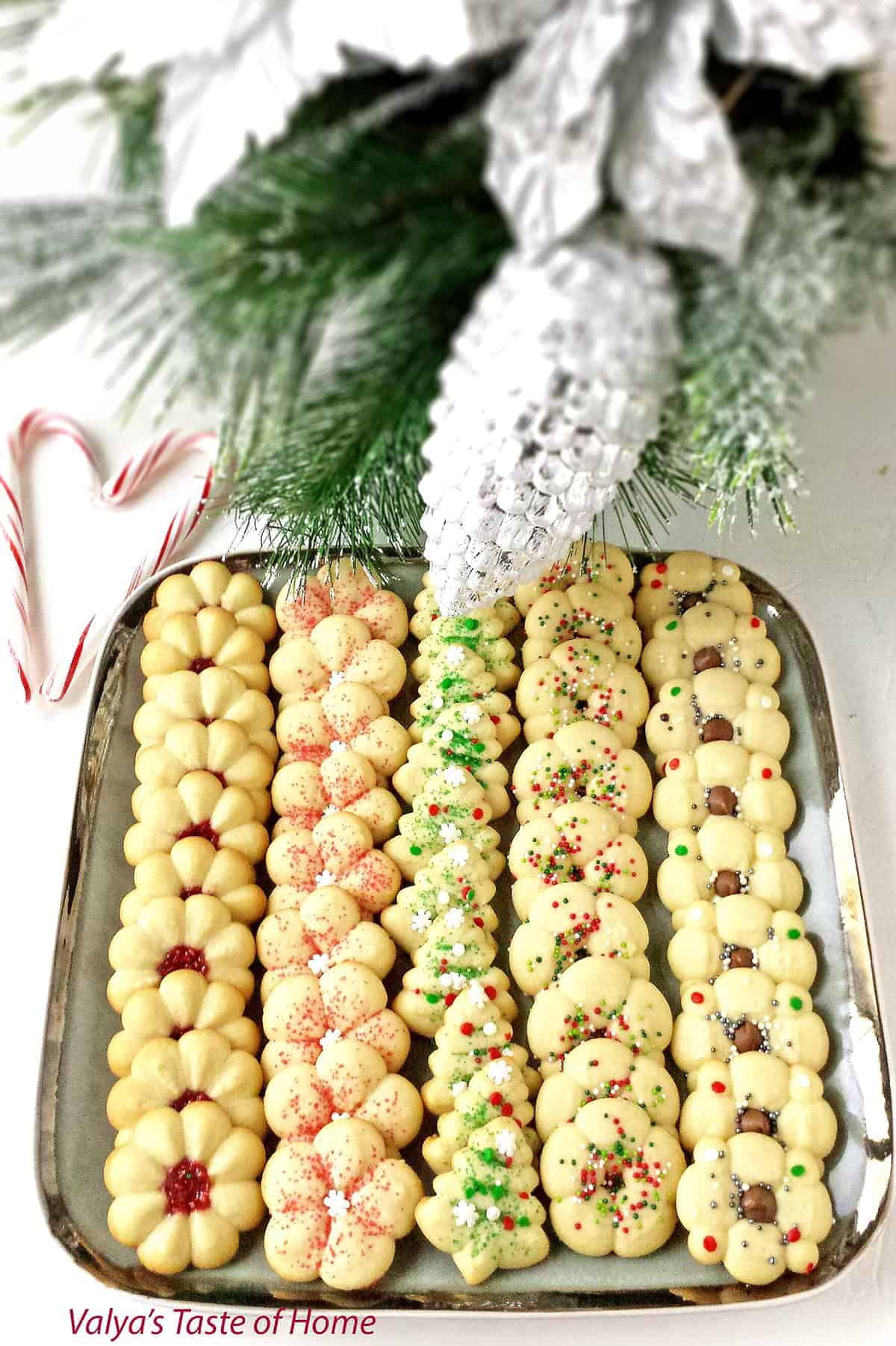 A family bake-a-ton turned event, where all my kiddos enjoy making them with me. We like to all gather up in our big kitchen, put on some Christmas music which puts everyone in a Christmas mood, humming tunes, and shaping all kinds of different shapes of these little cuties.
They are simple butter cookies, shaped with a cookie dough press. These cookies just simply melt in your mouth. Add a cup of ice-cold milk, kick up your feet and there is no other way to enjoy a wintery, snowy day by the crackling fireplace.
Christmas Spritz Cookies Ingredients
Unsalted room temperature butter
Sugar
Egg
Whole milk
Pure vanilla extract
Almond extract
All-purpose flour
Baking powder
Homemade No-Cook Raspberry Freezer Jam
Christmas sprinkles decorations
You will also need Cookie Pro Ultra II Press
How to Make Christmas Spritz Cookies
Preheat oven to 375 F. Thoroughly cream butter and sugar.
Add egg, milk, vanilla, and almond extract. Beat well until smooth about 3 minutes on high speed.
Stir together flour and baking powder. Sift it into the creamed butter mixture.
Mix on low speed until all flour combined and the dough will is smooth in texture.
Do not chill.
Place the dough into Cookie Pro Ultra, and press cookies onto a baking sheet lined with parchment paper.
Decorate them with No-Cook Raspberry Freezer Jam or Christmas sprinkles of your choice.
Sprits Cookies Baking Instructions
Bake one batch of cookies for 8 minutes at 375 F.
Let cookies cool on the baking sheet for 5 minutes before removing them from the pan onto the cooling rack. Enjoy!
If you make this Christmas Spritz Cookies Recipe, please share a picture with me on Facebook, Instagram, or Pinterest. Tag with #valyastasteofhome. I'd love to see your creations!
Check out all cookie recipes.