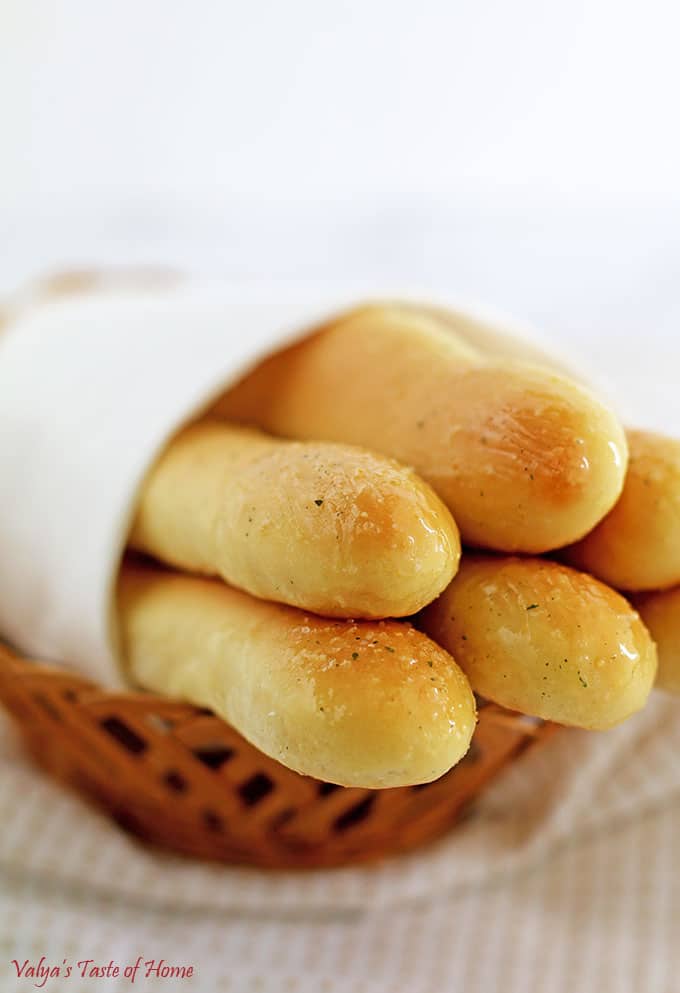 The bread has a distinctively different taste from breadsticks made with the French Bread Recipe. They are pillow soft and so delicious!
2

Tbsp.

30 ml – organic sugar

3/4

tsp.

7 g - dry yeast

1

cup

237 ml + 1 tbsp. (15 ml) - warm water

3

cups

360 g – unbleached bread flour

1 ½

tsp.

7 ml - salt

¼

cup

½ stick or 55 g – unsalted butter (room temperature)

3

tbsp.

45 g - butter (melted)

Garlic powder or salt
Dissolve sugar and yeast in warm water. Let the mixture ferment for 15 minutes (until it becomes foamy on top).

Combine flour, butter, and salt in a large bowl. Using paddle attachment, mix the butter and flour or until the butter is well incorporated (about 5 minutes).

Switch the paddle for the dough hook attachment. With the mixer running, pour in the water/yeast mixture into the flour, and knead for about 10 minutes.

Transfer the dough to a large bowl and cover with plastic wrap. Poke about 6 holes in the plastic wrap, cover with clean cloth and let the dough proof for 1 ½ hours in a warm place or until it doubles in size.

Once the dough has proofed, measure out 2-ounce portions and roll the dough on a flour dusted surface to form breadsticks, about 8 inches long.

Place breadsticks dough on baking sheets lined with parchment paper. Cover with a towel and let them rise for 1 hour.

Preheat the oven to 400 F (205 C). Bake breadsticks for 15 minutes or until golden brown.

Remove from the oven, and immediately brush each breadstick with melted butter and sprinkle with garlic salt or garlic powder.

Enjoy!