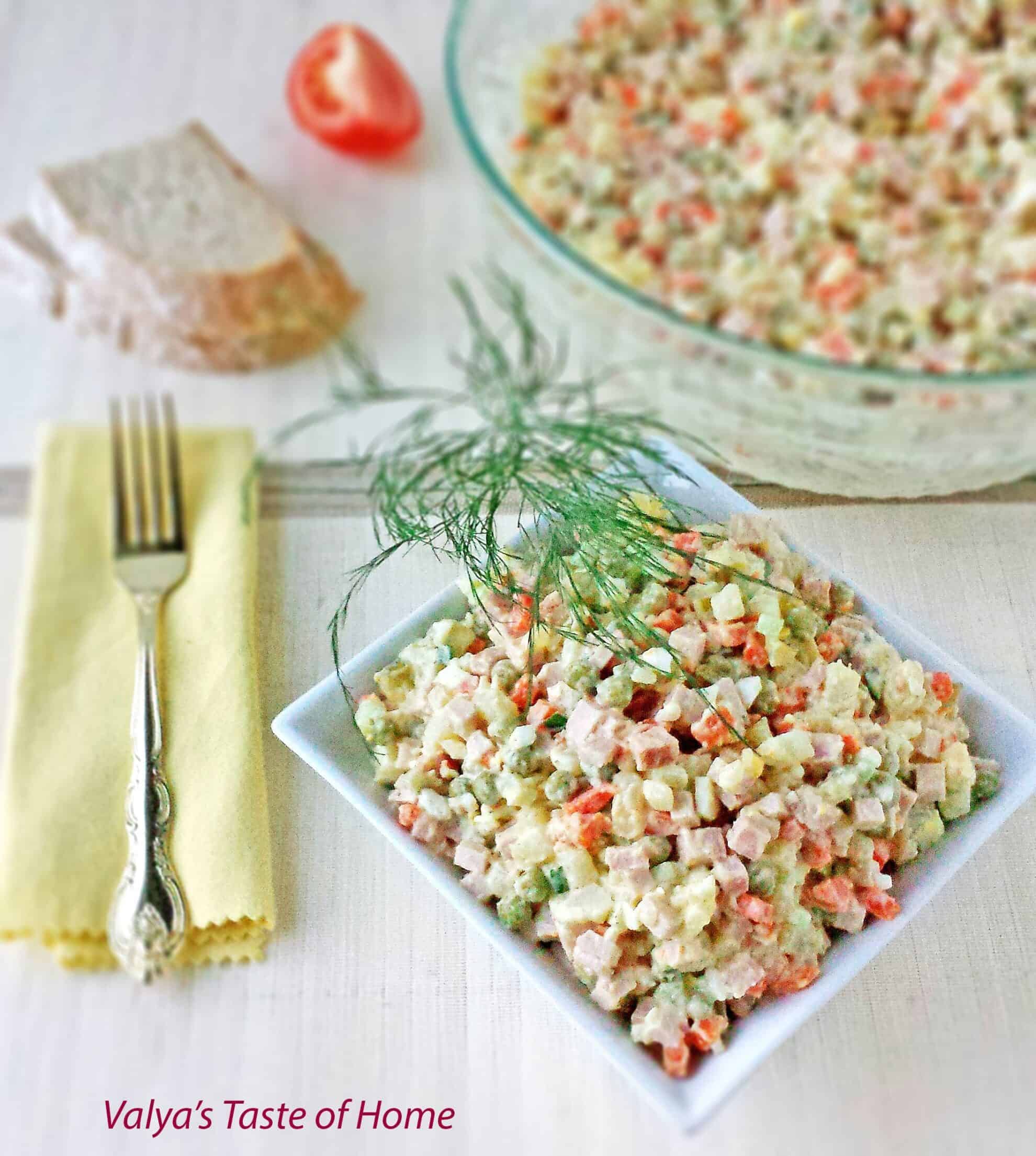 This traditional Ukrainian Potato Salad (Olivie) - Салат "Оливье" is a must-have on any holiday table. It's very easy to make, very hearty and craveable. Just cook some veggies and eggs, chop them up, add mayo, salt, and pepper and you have a very delicious salad. I remember when I was little we didn't have this salad as much as I make it now, and I could never get enough of it. Its a little time consuming so mom mostly made it for the holidays.
12

oz.

– Moskovska Kielbasa

8

oz.

– Bologna

3

large – potatoes

5

medium – carrots

½

small – onion

6

large – eggs

1

can – sweet peas

5

medium - pickles

½ -

English cucumber

2

cups

– mayonnaise

Salt and pepper to taste
Wash potatoes and carrots. Cut carrots into smaller pieces. Boil potatoes and carrots until tender. I remove carrots earlier, to prevent overcooking, and let potatoes boil for little longer, as they take longer to cook thoroughly.

Boil eggs. Let everything cool completely before cutting. (I place it all into the fridge for a couple of hours, it's easier to cut the potatoes, carrots, and eggs when they are cold and not mushy).

While cooked potatoes, carrots and eggs are cooling, dice Moskovsa kielbasa, bologna, pickles, cucumbers, and onions. Rinse sweet peas well, drain and set aside. Peel potato and carrot skins. Dice both. Peel egg shells and dice eggs.

Place all of the diced ingredients into a large bowl. Mix it all together. (If you use home canned pickles, squeeze the juice out of them, because they tend to have way too much juice and will make your salad watery).

Add mayonnaise, salt, and pepper to taste. Mix in the mayonnaise carefully and gently, side to side, from the bottom to the top. Make sure you don't mash the salad or it will lose its shape. You want to see each diced ingredient in the salad.

I like for my salad to stay in the fridge for 2-4 hours before serving. This lets all the ingredients and flavors soak in. Enjoy!