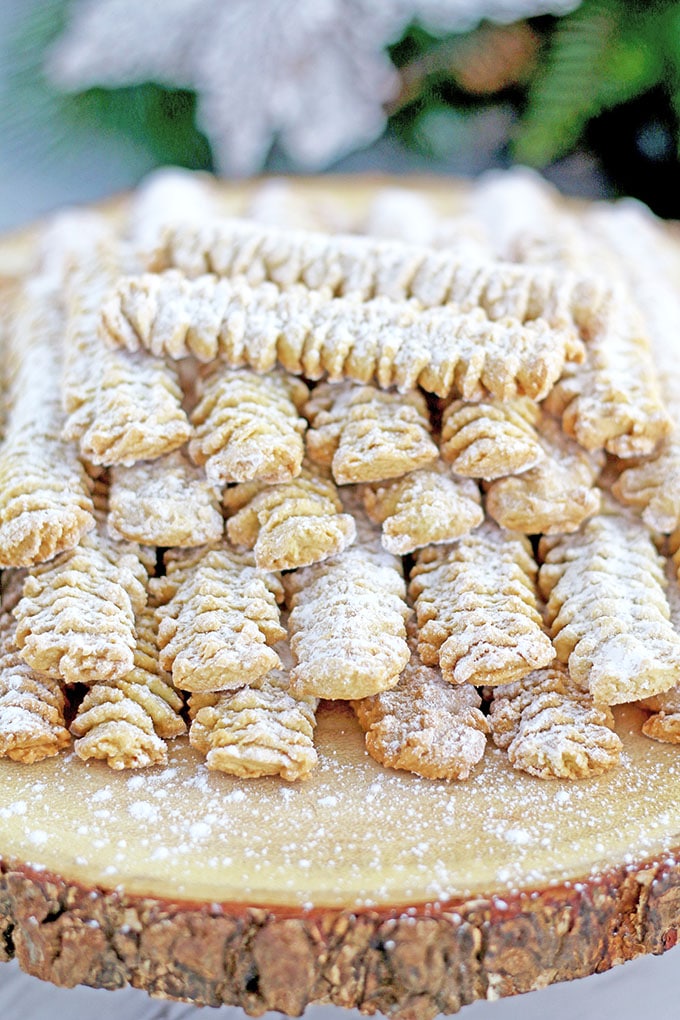 This was one of my mother's favorite cookie recipes. She made these cookies for major holidays, and always for Christmas. I enjoyed them very much every year growing up. They are easy to make but so delicious and crunchy. Every bite just melts in your mouth with every sip of hot tea or coffee. I don't think we ever had a Christmas where we did not enjoy these traditional cookies. They perfectly match a winter theme. Cookies dusted with powdered sugar remind me of nature dusted with snow.
4 ½ -4 ¾

cup

576 g – 608 g – all-purpose flour (I used organic whole wheat white flour)

6

oz.

170 g – unsalted organic room temperature butter

2

oz.

56 g – LARD room temperature (read what LARD is? HERE)

½

cup

115 g – sour cream

1

cup

200 g – granulated sugar

1

large – egg

1

tbsp.

15 ml – baking soda

1

tbsp.

15 ml – vinegar

1

tsp.

5 ml – pure vanilla extract

¼

tsp.

1.25 ml – sea salt

Meat grinder with cookie disk attachment
Sift flour onto a working surface. Add room temperature butter and lard. Rub butter and lard into flour with both hands until well incorporated and the mixture resembles tiny breadcrumbs.

Form a crater in the middle of the flour mixture and add the rest of the ingredients: sugar, sour cream, egg, salt, vanilla, and baking soda activated with vinegar. Start by mixing all the ingredients together inside the crater with your fingers, then gradually incorporating flour, a little at a time, until all the flour is well incorporated. Remove all dough from your hands, knead it well and form a dough ball. The dough is very easy to work with. It should have the consistency of play-doh; not too sticky but cleans the surface of crumbs and flour well.

Knead the dough into a ball. Place it onto a plate, cover with plastic food wrap and refrigerate for an hour or two.

Preheat oven to 350 F (180 C). Remove from the fridge, pinch off a fist-size chunk of dough and push it through the meat grinder. Cut the cookie bar from the meat grinder disc when it's about 3 inches long.

Line them out on a greased cookie sheet.

Bake for 25 minutes at 350 F (180 C) or until light golden brown.

Let them cool on the cookie sheet for 5 minutes. Remove from cookie sheet and place them into a large Tupperware container to finish cooling. Once completely cooled, dust each row of cookies with powdered sugar, and cover with a lid. They also freeze perfectly if the recipe turns out to be too large for your family.