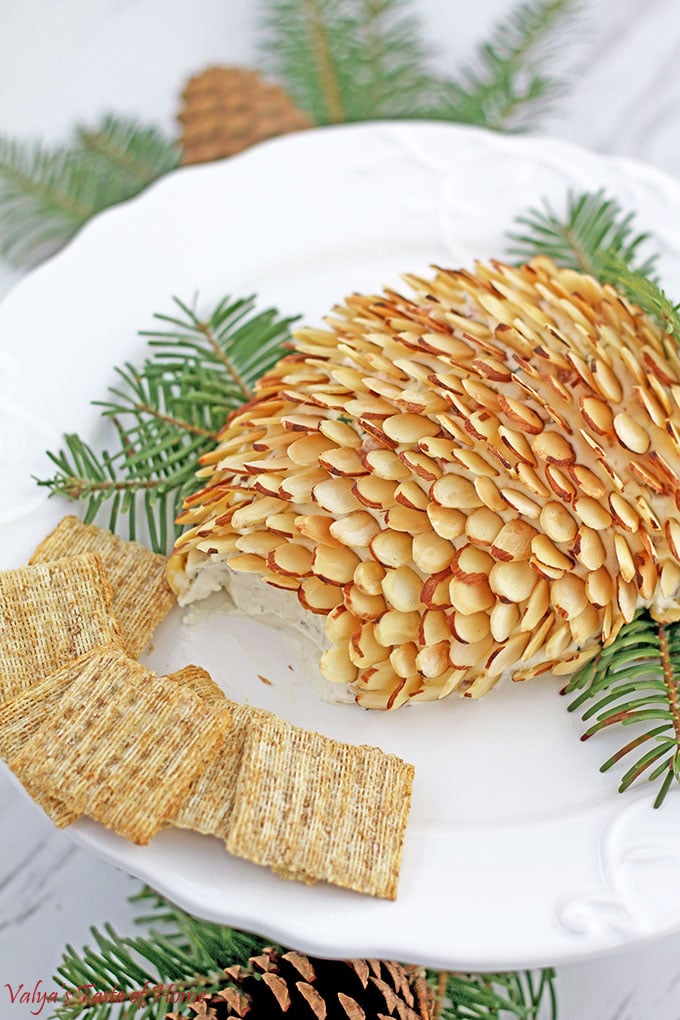 This beautiful and festive - yet so simple - appetizer is here for you just in time for that New Year's party. It's a great addition to the party table at get-togethers. It looks catchy and tastes amazing! Serve at room temperature as a spread on your guests' choice of sliced baguette bread, bagel, or crackers for a quick and tasty appetizer. Bacon, dill and a hint of garlic give the cream cheese really enjoyable aroma and flavors. Squirrel some away before it's all gone! :)
16

oz.

454 g – softened cream cheese

¼

cup

58 g – mayonnaise (I use Homemade Mayonnaise)

1

tbsp.

15 ml – ranch (I use Homemade Ranch)

1

tbsp.

15 ml – dill (I used freshly packed frozen dill)

4

slices

– bacon

See How to Broil Bacon

1/8

tbsp.

0.62 ml – garlic powder

Dash

or 1/24 tsp. - black ground pepper

1

cup

110 g - toasted almonds
Pick out 1 cup of non-broken almond slivers. Toast them for 8 minutes at 350 F (180 C). Cool completely before use. Handle carefully so none break.

Beat to smooth cream cheese. Scrape the sides of the bowl down to incorporate all of the cream cheese into mixture. Add finely minced bacon pieces, garlic powder (or extract juice from one small garlic clove), black ground pepper, frozen (or fresh) dill, mayonnaise, and ranch. Beat all these together on the lowest speed for 30 seconds or until all incorporated.

Scoop the cream cheese mixture onto a serving platter and mold into a teardrop shape to resemble a pine cone. Insert almond slivers into cream cheese, leaning them toward the pointy side, to finish the pine cone look.