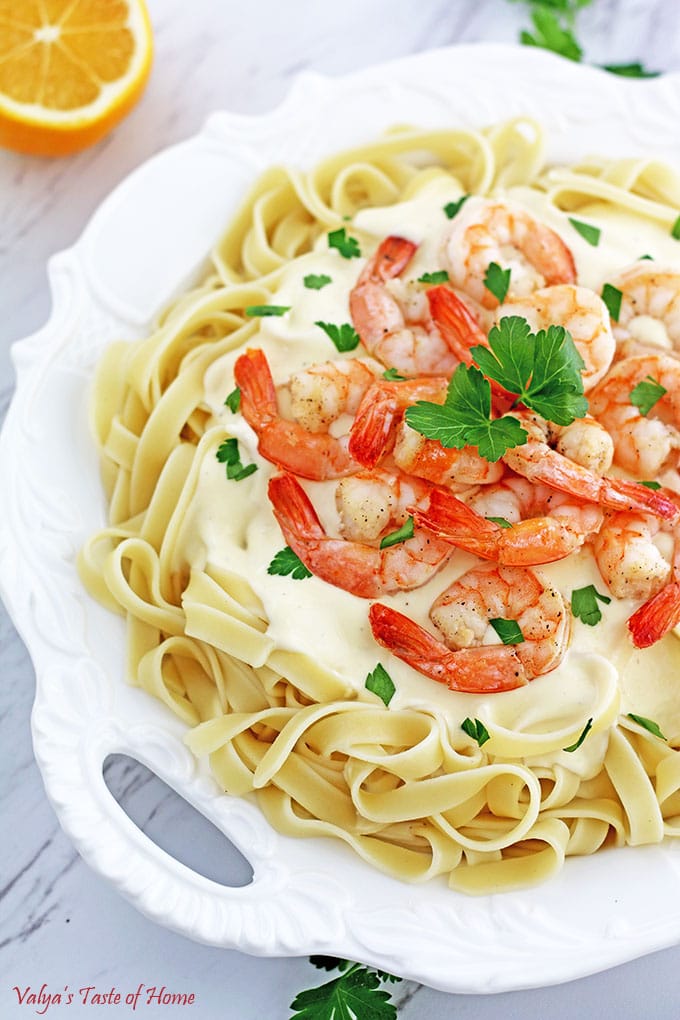 This Shrimp Alfredo Fettuccine Pasta is a majorly delightful crowd-gathering meal. And surprisingly not very long to make for how scrumptious and satisfying the meal is. What makes this pasta taste absolutely scrumptious is the Homemade Alfredo Sauce. It goes without saying that it was used to adorn the dish. If you need something special to cook for a special occasion, this would do the job for you.
Course:
Dinner, Main Dish
1

lbs.

454 g – large shrimp

1

tbsp.

14 g - unsalted butter

1

tbsp.

15 ml – fresh lemon juice

½

tsp.

5 ml - Sea Salt

¼

tsp.

1.25 ml – ground Black Pepper

2.5

cups

– Homemade Alfredo Sauce
Wash shrimp. Add freshly squeezed lemon juice, salt, pepper and let the shrimp marinate for about 15 min while you're making the Homemade Alfredo Sauce.

Make Homemade Alfredo Sauce and set aside to cool and thicken. Cook pasta according to package instructions. While the pasta is cooking sauté the shrimp.

Shrimp: Heat a medium skillet on high for 20 seconds. Add and melt butter. Then add marinated shrimp. Sauté shrimp on high for about 2 minutes on each side until cooked through, and then divvy it up.

Assembly Instructions:

Drain and butter pasta. Transfer to a serving platter or portion onto individual plates. Pour slightly cooled Alfredo sauce over pasta and top with shrimp. Sprinkle fresh parsley (or dill) and serve. That's it! This is how easy it is!