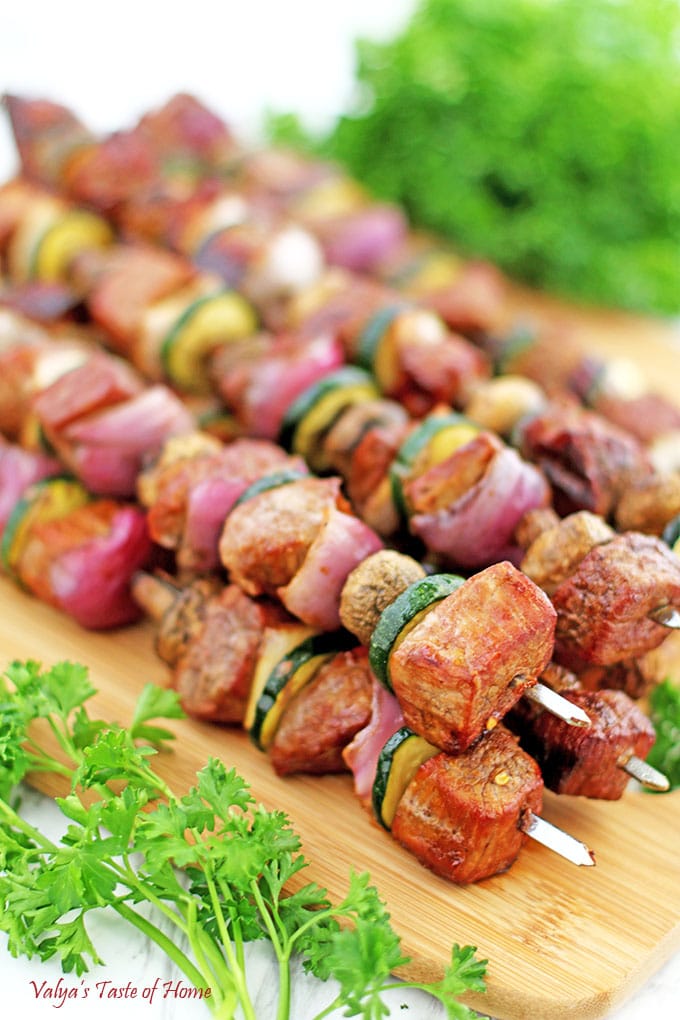 Kabobs are a fun and fancy way of changing it up for dinner and eating more vegetables. When grilled on sticks with meat, vegetables take on a new appeal and eaten more readily by kids. And of course, adults just can't get enough of it. Grilled veggies bursting with flavor and still has a slight crunch of freshness is some of the best things about summer.
4

lbs.

1.8 kg – beef

2

lbs.

900 g – fresh small mushrooms

1

large – red onion

4

small – zucchinis

1

large – garlic clove

minced

Soy Sauce Marinade Ingredients:

¼

cup

125 ml – Sesame Oil

¼

cup

125 ml – Extra Virgin Olive Oil

1

cup

250 ml – reduced sodium Organic Soy Sauce

½

tsp.

2.5 ml – black ground pepper

½

tsp.

2.5 ml – crushed red pepper flakes
Cut meat into 1-inch square cubes. Rinse the meat and set aside to allow excess water to drain. In the meantime, prepare the marinade. Add all the ingredients into a glass measuring cup: sesame oil, olive oil, organic soy sauce, black ground pepper, red pepper flakes and minced garlic. Stir well.

Pour the marinade over clean beef cubes, stir to coat, cover with a lid and place into the fridge to marinate for about 4 hours.

Prepare all the vegetables; rinse, chop or slice. Combine vegetables with marinated meat.

Thread beef and vegetables onto metal skewers. Wooden skewers will work too, be sure to soak them in the water for 15 minutes before threading beef and vegetables.

Grilling Instructions:

Preheat grill to 375 F (190 C). Place skewers on main grill rack.

Cook the skewers for about 15 minutes per side or to your liking. (We prefer meat well done. If you like meat rarer done, reduce the cooking time.)

Serve right away. We love to enjoy these kabobs with Mashed Potatoes and Garlic Breadsticks or Toasted Garlic Bread.

Enjoy!