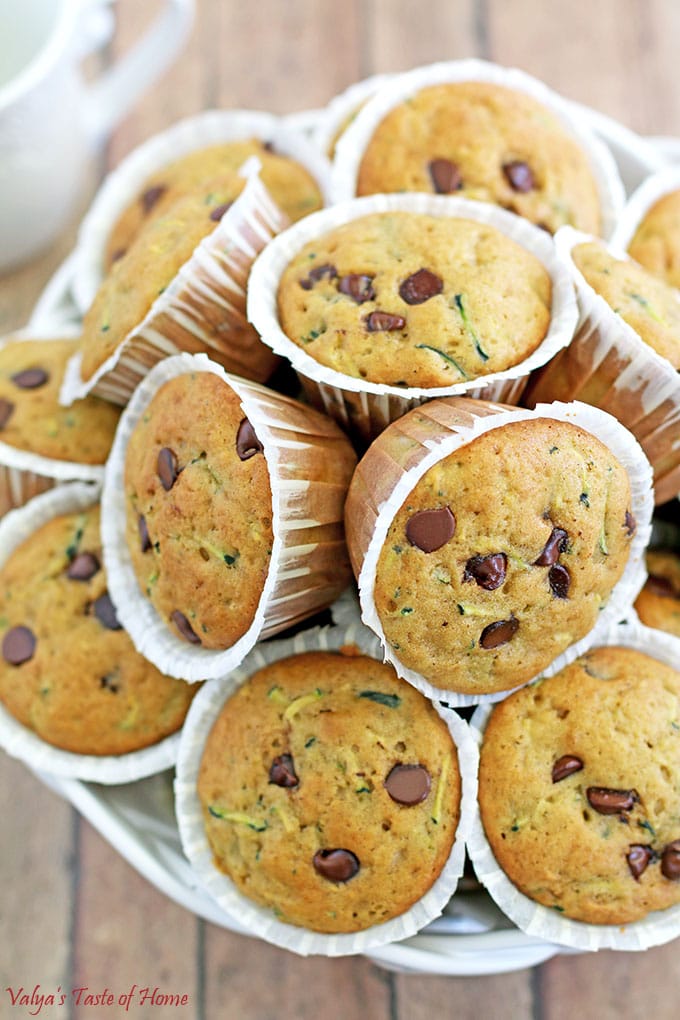 The incredible Greek Yogurt and butter makes them super soft, and moist. They are loaded with zucchinis and don't even taste like it; a good way to begin pushing thinking, memory and focus food, like vegetables, into kids' diet. Especially the picky ones. My kids love them very much. Who wouldn't love one a serving of this sweetness?
3

cups

384 g – organic all-purpose flour

2

tsp.

10 g – baking powder

1

tsp.

5 g – baking soda

½

tsp.

2.5 – sea salt

½

tbsp.

7.5 g – ground cinnamon

3

large – eggs

½

cup

100 g – organic sugar

1

cup

200 g – Cane brown sugar

2

tsp.

10 ml – pure vanilla extract

½

cup

118 ml – unsalted butter (melted)

½

cup

59 ml – Greek Yogurt

12

oz.

or 2 small

340 g - zucchinis

¾

cup

130 g – chocolate chips + ¼ cup (45 g) for topping

24 -

cupcake liners
Grate zucchinis set aside until ready for use.

Sift flour and combine all dry ingredients: baking soda, baking powder, sea salt, and cinnamon. Set aside until ready for use.

Line a muffin pan with paper cupcake liners and set aside until ready for use.

Preheat oven to 350 F (180 C). Beat eggs, brown sugar, and organic sugar. Beat on high for 5 minutes. Reduce speed to low and add vanilla, melted and cooled butter and Greek Yogurt. Mix for a minute or 2 until all incorporated.

Add dry ingredients by alternating half flour and half of grated zucchinis. Scrape down the sides of the bowl with a silicone spatula, add 3/4 cup of chocolate chips and mix for a minute until combined.

Remove mixer bowl from stand and mix batter once more with a silicone spatula to ensure all the ingredients are well combined. Scoop batter using a large ice cream scoop, and fill prepared muffin liners 2/3 full. Bake muffins for 20 - 25 minutes at 350 F (180 C).

Remove from the oven and let the muffins cool for 5 minutes before removing from the muffin pan. After the muffins cool completely, store them in a plastic container or freeze in freezer Ziplock bags.

Enjoy with a cup of hot tea or coffee or a cold glass of milk.