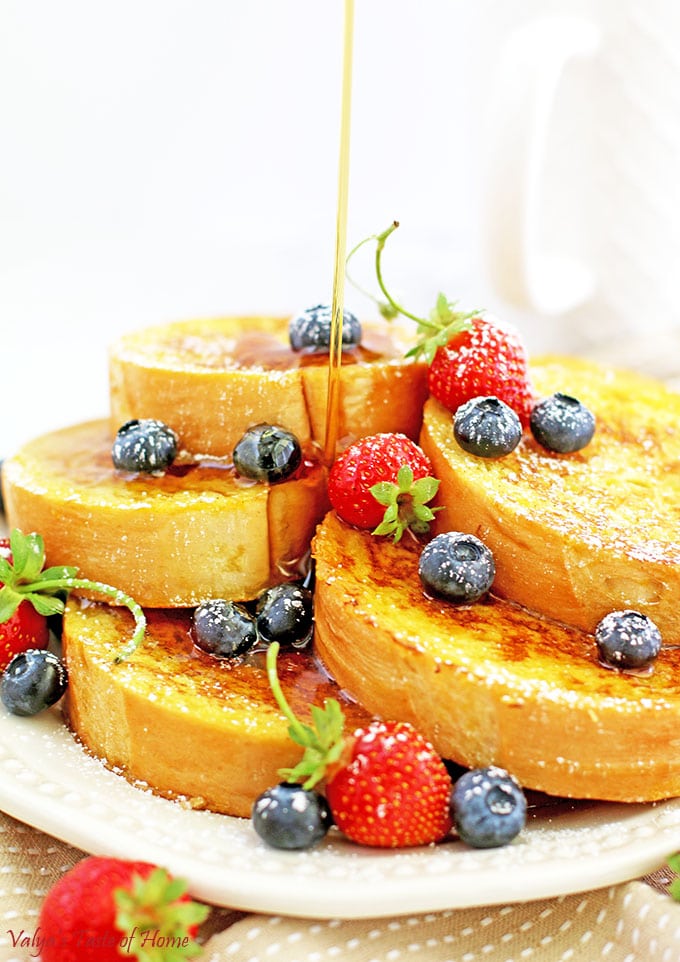 Homemade French Bread slices dipped in a tasty combination of home-raised eggs, sugar, salt, and vanilla mixture, sautéed in butter make them taste so scrumptious, pillow soft, that melt in your mouth in a sweet delight. Enjoy!
Servings
:
18
French Toasts
4

– Large eggs

¼

cup

50 g – ½ cup (100 g) – organic sugar (depending on the sweetness level you prefer)

1/8

tsp.

0.6 g – sea salt

½

tsp.

2.5 ml – pure vanilla extract

1

loaf of French Bread

of your choice

Unsalted butter for sautéing

Organic maple syrup or raw honey

optional

Fresh fruit for topping

optional
Slice a loaf of French Bread into thick slices.

Beat eggs, sugar, sea salt, and pure vanilla extract with a hand whisker until well combined and sugar dissolved.

Heat a medium size frying pan to low/med. Add ¼ tsp. (0.6 g) butter. Dip each side of a bread slice into the egg mixture and place it in the center of the heated pan. Sauté for about a minute per side. Repeat these steps with each slice of bread. (Tip: For a faster process use a larger pan, ½ tbsp. (2.5 g) butter and fry 3 toasts at a time.)

Remove from the pan and onto a serving platter. Adorn with fresh fruit, and drizzle organic maple syrup or raw honey for an irresistible morning greeting!