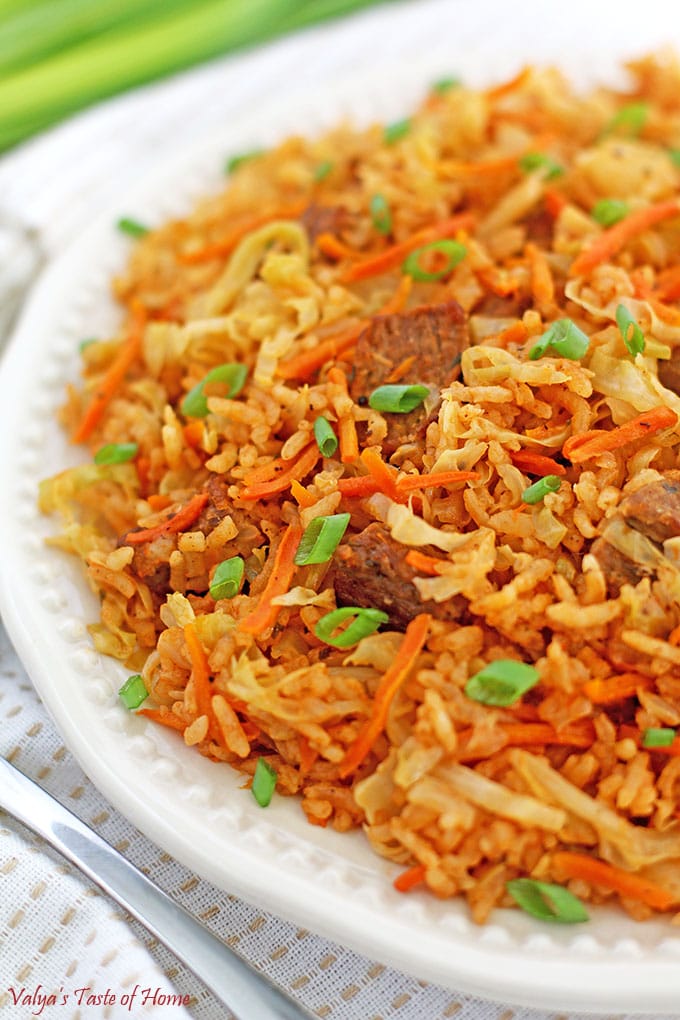 Lazy Cabbage Rolls Recipe is made out of rice with seasoned meat, tomato sauce and cream, carrots, cabbage all the same ingredients to give you those same tasty results without spending a lot of time making the regular version of the Cabbage Rolls Recipe.
1

medium – green cabbage

2 lbs. - 900 g shredded

2

large – carrots

8 oz. - 225 g grated

1.5

lbs.

680 g – beef

1

medium – organic yellow onion

2

cups

400 g – rice (of your choice, I use white rice)

2

tbsp.

30 ml - olive oil or 2 tbsp. (30 g) unsalted butter

3

oz.

85 g – organic tomato paste

½

cup

118 ml – heavy cream

2

cups

500 ml - cold water

1

tbsp.

15 ml – parsley

½

tbsp.

7.5 ml – sea salt + 1 tsp. (5 ml) - sea salt for the meat sauce

1

tsp.

5 ml – Mrs. Dash seasoning

½

tsp.

2. ml – garlic salt

¼

tsp.

1.25 ml – black ground pepper
Measure out and mix together seasoning. Set aside until ready for use.

Rinse meat, cut into small pieces. Season the meat, cover the bowl with a lid (Tip: Gallon size Ziploc bag works really good as well.) and place into the fridge to marinate for at least 2 to 8 hours. The longer the meat marinates the softer it will be.

Prepare all the vegetables. Rinse then shredding cabbage, grate carrots and chop onion. Set aside until ready for use.

Cooking Instructions:

Heat a medium frying pan on high and brown the meat.

Add onion, sauté for a minute. Add grated carrots, and sauté for another minute. Then add tomato paste and heavy cream. Mix all ingredients together.

Then add 2 cups cold water and additional 1/2 tsp. sea salt. Stir everything together, and bring to a boil.

Rinse the rice well. In a large pot add shredded cabbage, rice and meat/cream mixture. Mix everything together well. Cover the pot with a lid and bake in the oven for 1 hour and 20 min at 375 F (190 C).

Remove from the oven, mix very carefully (do not mash cooked rice with vegetables) and let it cool for about 15 to 30 min before serving. Store leftovers in the fridge. It reheats well and is very lunchbox friendly. Serve with sour cream or home canned pickles, tomatoes or any of your favorite salads.

Enjoy!