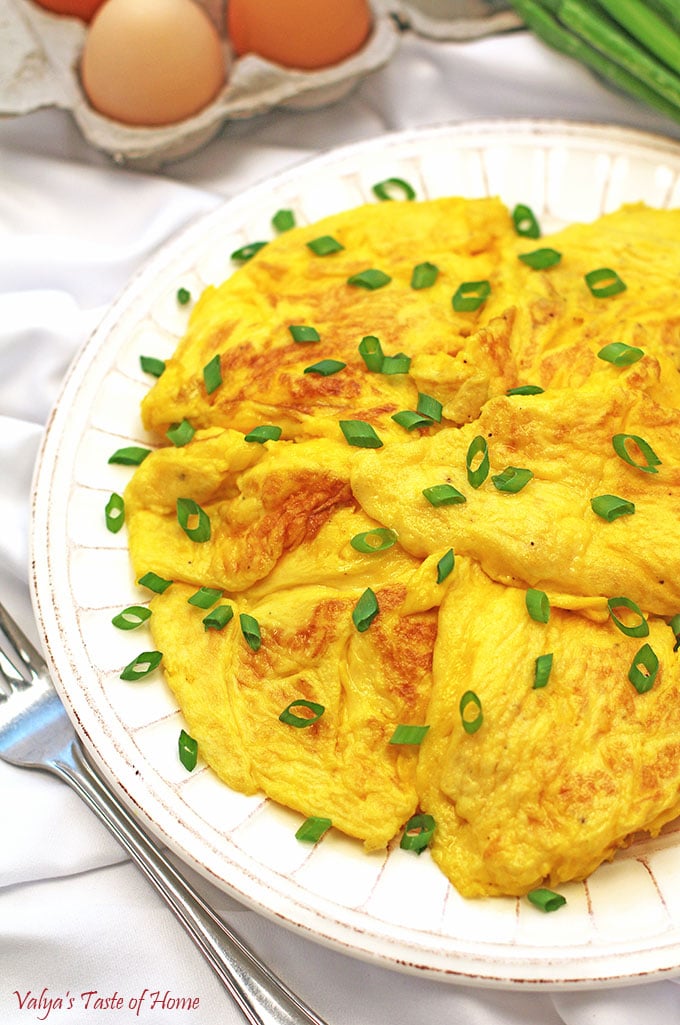 I'll reveal my big secrets resulting in the best, light and fluffy scrambled egg goodness. You will be making them again and again! Read on to see the errors you can avoid by following my simple steps below, and see how your next batch of scrambled eggs turn out.
6

– large-grown eggs

½

cup

118 ml – heavy cream (half &half or whole milk is ok too)

¼

tsp.

1.25 ml – sea salt ( to taste)

dash – black ground pepper

2

tbsp.

30 ml – olive oil (avocado or coconut oil ok)
Crack eggs, add cream into a medium bowl. Sprinkle salt and pepper (set aside, do not whisk just yet).

Place a 9" skillet onto a stove top, add oil and turn it on to med/high. While the skillet is heating whisk the eggs with cream VERY WELL until frothy. (This step is important; you will need serious muscles here! ;) You don't want to see any separation of yolks or whites in the mixture. If you do it's not beat well enough.)

Swirl the oil around the skillet to coat the entire surface. Immediately pour whisked eggs into the skillet. Do not stir the eggs, let them cook for about 20 seconds or until the first signs of setting.

Using spatula push the eggs from the edge of the skillet to the center than from the center to the edge of the skillet (scrambling eggs is more about gently stirring than scrambling) so that uncooked egg moves to the empty space on the skillet where you just pushed the eggs away from.

After about 15 – 20 seconds or as soon as you see the eggs are set to the top, gently flip (like pancakes) large pieces of cooked eggs over to the other side. (I like mine well cooked with a golden sear. If you prefer them more on the raw side then flipping them is not necessary.) Cook for another 15 seconds.

Transfer cooked scrambled eggs to a plate, sprinkle with chives, serve and enjoy. Or for a good sandwich place a large piece on a toast, English muffin or croissant to make a scrumptious egg sandwich.