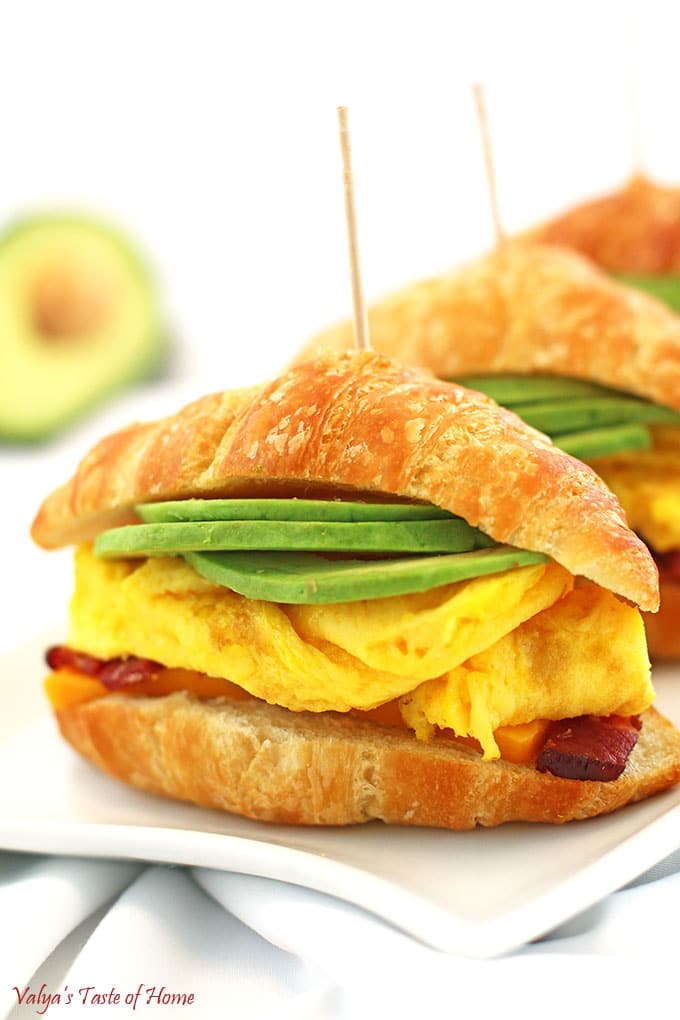 Avocado and eggs are among the few foods that I classify as "superfoods". They contain a little bit of almost every nutrient we need. Bacon and cheese complete that delicious smoky, salty and cheesy flavors of super tasty breakfast sandwich that makes you get up early in the morning for ;)
Servings
:
6
Crossanwiches
6

small – Crossanwich buns

6

strips – broiled bacon

See How to Make Perfect Quick and Easy Oven Broiled Bacon post

6

slices

– cheddar cheese

1

– Avocado

Scrambled eggs made out of 6 large eggs

See How to Make the Best Scrambled Eggs Recipe post
Cut crossanwich buns in half (lightly toasted them – optional). Place a slice of cheese on each bun and strip of bacon (you can also cut bacon in pieces, it's easier for the kids to eat – optional).

Then place egg, 3 slices of avocado.

Place the top of the bun on the crossan'wich and serve. (NOTE: If making these crossan'wiches for next morning's breakfast do not place avocado onto crossan'wiches, rather wrap each individual crossan'wich into a plastic food wrap and refrigerate.

Before consuming, unwrap plastic wrap, heat the crossan'wich in the toaster oven until heated through, place avocado and Viola. Saves so much morning time when in the hurry and kids have nutritious homemade breakfast before school).