Tasty Food Photography – Pinch of Yum offers this eBook written by Lindsey, that helps food bloggers with taking perfect photos, preps to use, lightning, and so much more. It was a big help to me and I've have learned so much from reading this eBook. It can be very beneficial not just for new bloggers like me but to anyone. There are always things to improve to have the best photos on your blog.
BigScoots/CloudFlare – I use to host my website/domain name. They have excellent customer service! I mean a really good service! I have been with GoDaddy, then SiteGround, then LiquidWeb, but BigScoots beats them all in everything! Click on the image below to get started with them!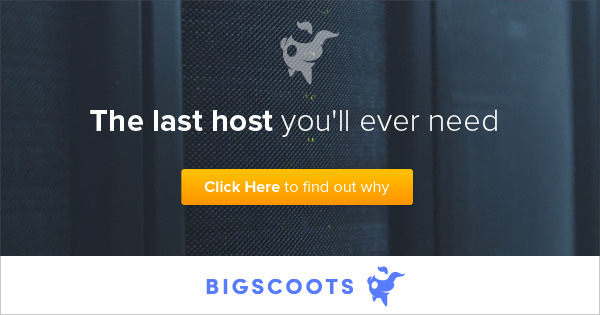 Vaultpress – the company I use to backup Valya's Taste of Home WordPress account. It's like having a house or a car insurance. It would be pretty bad if something happened where our site was wiped out and we lost everything. Vaultpress ensures that if that something like that did happen we'd be able to recover everything from a backup.
WordPress Free Themes – has tons of free themes available if you're not ready for purchasing a "premium" theme right away. I started with one of the free themes without spending a lot of money. Check the theme you pick for rating before downloading and install it on your blog. Get the theme that has four to a five-star rating.
Word Press Plugins – plugins can extend WordPress to do almost anything you want with your website. Some Plugins that I'm running my blog on are Akismet , Google XML Sitemaps, WP Super Cache, WP Recipe Maker, Pin It Button, Contact 7 form, WP to Twitter, WordPress SEO, Google Analytics, Link Manager, etc…
Driving Traffic to Your Site: this is a list of the food photo submission sites that I use. It takes some time to enter that picture, but the traffic you gain from getting a submission accepted can be great! It's not uncommon to see an increase in visits to your blog in a day after you get it submitted and accepted. FoodGawker, TasteSpotting, Healthy Apperture
Ads: AdThrive (AN ELITE CAFEMEDIA FOOD PUBLISHER)
MailChimp: MailChimp is the email marketing software I use to send the Valya's Taste of Home newsletter via email.
Social Media: Facebook, Instagram, Pinterest, Twitter
Disclosure Note: – some of the links above are affiliate links. I will earn a small commission if you purchase through those links. I recommend them because they are helpful and the companies I trust, not because of the commissions that I may earn from you using these products.