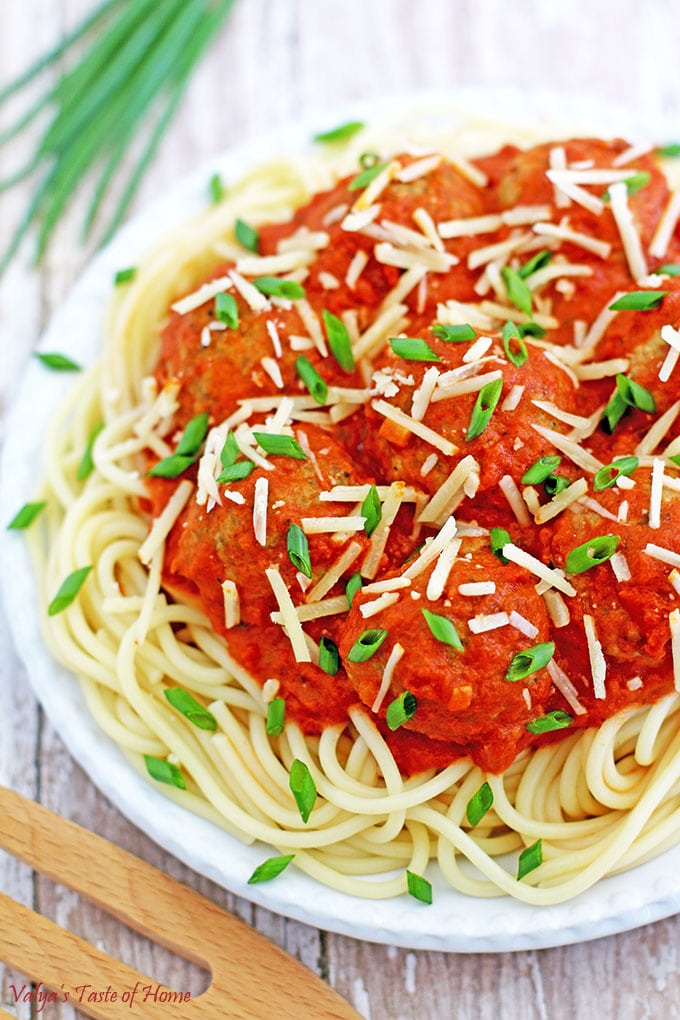 I've never seen a kid that doesn't love spaghetti and meatballs. And we, as moms, love to see them appetizingly devour every bit of this dish. Maybe just not so much when the little ones get the help of noses, cheeks, and chins… But when all the food makes it down, all's forgiven!
If you already have a stockpile of ready to use meatballs in the freezer, that is, this meal will literally take you less than 30 minutes to put on the table. If you don't, do yourself a favor and take me up on the suggestion to have kid-friendly and loved food stockpiled, whether it's in the freezer or pantry. With the end of the school year fast approaching, the dreaded finals frenzy is near! Comfort food like this is much needed and appreciated by the overworked, and at times cranky, kids. Can anyone relate?
Also, with hot summer days around the corner who wants to spend long hours, every single day in the kitchen cooking time-consuming, fancy meals? I'll be honest, I love soaking in some sun while working my garden or relaxing, so I like to mix up my cooking routine. For example, I spend an entire day in the kitchen cooking up a storm, then properly preserve and store it for a simple defrost and light prep as needed in the next couple days.
This is one of those quick solution meals for any busy, pressure-packed, limited-time days, as well. Spin some Caesar salad, toast some garlic bread, or thaw and bake ready-made bread sticks and voila! Dinner served with a smile… Happy kids – happier mom!
…